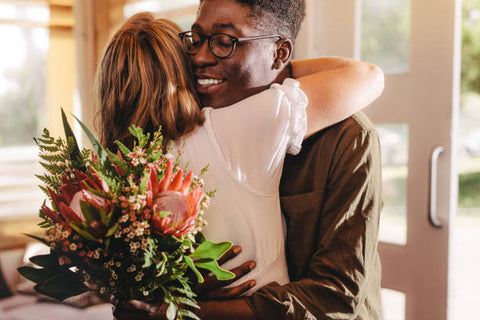 Dear Men,
I want to release you from the notion that you must be strong, and masculine for the sake of your character. It's time to move past outdated gender roles and encourage better self-care. 
Expectations surrounding Black masculinity, such as the requirement to be strong and lack emotion, have often prevented Black men from seeking mental health care. It has taken a toll on our community for far too long, and it's time to stop. 
As mental health challenges continue to rise in this community, some Black Americans still aren't receiving the mental health care and treatment they may need. This is especially true for Black men, who are not only affected by the general barriers to medical treatment that many in the Black community face, but who also have internalized certain behaviors that fit within the social constructs of Black masculinity — ultimately impacting their help-seeking behaviors. Despite known or suspected mental health issues, Black men are for numerous reasons often reluctant to seek treatment.
There are many factors to consider here, this being the most important:  Black men specifically are traditional masculinity roles and ideas across racial and ethnic backgrounds that have caused men to struggle with being vulnerable and sharing their emotions — making them even more reluctant to seek help. In addition, the lack of love and acceptance that many of them face can create a separate emotional crisis.
There is a study that shows Black masculinity both exacerbated psychological and emotional challenges such as depression, anxiety, and PTSD and prevented the men from seeking help to address those challenges. (study link: https://www.ncbi.nlm.nih.gov/pmc/articles/PMC4979354/ )
Despite these norms and the frequent inner struggle over vulnerability, more and more Black men are sharing their challenges with mental health. Figures like Kid Cudi, JAY Z and Charlamagne The God, Big Sean, and many others take a stand daily to support black men and mental health. 
So the question stands: as society is doing the work to eradicate toxic masculinity in the black man, would you date a soft man? A man that prioritizes his feelings over his strength. A man that is emotionally mature and available for a relationship. One that consistently indulges in romance and chivalry. One that is in-tune with his softness.
This change doesn't happen overnight. Let's talk about how to downsize the Masculine vibes in exchange for BRAVE-SOFT LIFE: 
You have nothing to prove. Let go of the stigma and realize that you alone are enough and you have nothing to prove. Yes, there are obligations to loved ones that must be fulfilled, but prioritizing mental and physical wellness so that you can be more present for those who love and depend on you is essential.

There is no shame in seeking help. I know this is cliche, but the message is still in-fact true. Be proud that you are taking the steps to be a better version of yourself. Help doesn't always mean counseling. It is also putting a system in place so that you can maximize your well-being. Whether it's indulging in self-care each day with the BRAVE COLLECTION or Turning on Your Meditation Playlist from YELLE's Self-care QR code. You control your narrative, you have that power. 

Establish Boundaries. This is a form of taking back control. YOU have the right to say who is and who isn't allowed in your life. Establish the proper boundaries for those who are not able to support you through this journey, family included. Remember, if it costs you your peace, it's too expensive.