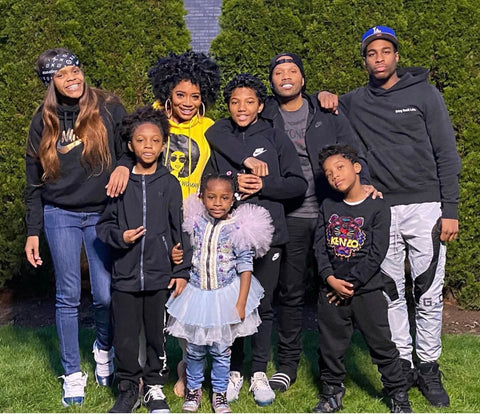 Get yall nasty minds out of the gutter … yea, we are talking BIG D Energy, but D meaning –DADDY!
All of June we will be celebrating the special father figures in our life. Whether you planted the seed, or raised them up. Even if you're the uncle or god-daddy! We need you and we will celebrate you!
With Father's Day and Juneteenth falling on the same weekend, it's giving a double dose of joy. "Being a father is truly my greatest honor; my most prized title," says YELLE Community Member, HD Smith; "I was blessed to have not only my father, but extraordinary father-figures in my life, supporting me through my endeavors, and now having two amazing children of my own, I hope to inspire them to serve their communities as the men in my life and father did for me."
This is something we love to see! We want to shine a spotlight on not only fatherhood, but black fatherhood. While society claims that black father's aren't active in the lives of their children, we beg to differ. In fact, there are kings like James Bond of Dadish, INC who do the work every single day to take on the responsibility of guiding and supporting their biological children while showing up as community fathers to the children who lack strong and positive male influence.https://www.thedadish.com 
While fatherhood may look different for many, the most important part is the positive male influence in our household. Seeing our men be strong and supportive, maintain healthy relationships, prioritize their health and wellbeing, while also making a difference in the community. 
This is commonly displayed online with platforms like Krew Season podcast, where 4 black brothas have deep conversations about relationships and black love. It's a beautiful thing to witness. 
Accounts like Devale puts the black family on front-street while showing how he balances fatherhood, a demanding career, and a beautiful marriage. We can't resist the inspiration!
"Fatherhood is my greatest accomplishment, if I never did anything right, I did that right." - Mendeecees Harris says about becoming a father. 
In fact, you can see Mendeecees all over the gram using his BRAVE Collection from YELLE Skin Care while making sure his kids stay in routine with their FRESH Start Collection https://www.instagram.com/p/CW4RNoXJr3r/?utm_source=ig_web_copy_link&igshid=MmJiY2I4NDBkZg== 
Now if that doesn't inspire you, nothing will. We need our men to focus more and care about their wellbeing through self-care. Our fave, Influencer Dontrell always reminds us to put ourselves first before we can show up for our people. https://www.instagram.com/reel/Co_E5O5uRA8/?utm_source=ig_web_copy_link&igshid=MmJiY2I4NDBkZg== 
If you're looking for ways to connect with the father-figure in your life, YELLE has an extensive list of ways for you to do so. 
Grab your smartphone, because with every purchase you will be will be given a QR code that grants you access to our Meditation Playlist. 
You can find zen while using the BRAVE Collection. Our men's skincare system was designed to bring back the 'smoothe' to our brotha's skin.
Go on and celebrate the father in your life. Take advantage of our Father's Day sale by signing up for our newsletter to grab your discount code!