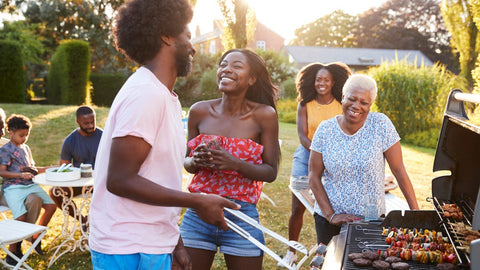 If you don't know –The Cookout is the OFFICIAL space where black people everywhere can dwell without judgment, scrutiny, or the backlash of societal pressure and expectations. The Cookout is our space haven, and not many non-black people get invited; but when they do … it's because they deserve the invitation! 
Here's a list of THE FEW that we are inviting to The Cookout: 
Gloria Johnson, the Tennessee state Congresswoman who stood with state Congressmen Justin Jones and Justin Pearson. The only white lawmaker in that chamber to disrupt the chamber alongside them. True allyship. 
Bobby Caldwell, Lord rest his soul. The brother(not with an "a") passed away this year but my man was soulful! While he was a great soul singer ("What You Won't Do For Love") who many actually thought was a black man.
Jane Elliot. Sis been telling white people they're racist and privileged for decades.
Teena Marie, the quintessential example of a white person who's cookout-worthy. She was a real part of Black culture in the '70s and '80s. She was a soul singer on Motown whose first single was released without a photo and many Black and white people heard that soulful voice and assumed she was Black. I mean, sis was Soul Train's FIRST White Guest. Access ACCEPTED. 
Tommy from Power. Cause clearly he's down to ride-or-die. 
Adele, because sis has soul and she can rap every single Nicki verse there is. 
Now that we've established who made the cut … I want to remind yall, this cookout for Juneteenth is BIGGER than just getting together. It's about coming together for our ancestors' dreams. It's about them finally seeing us thriving in the world they paved the way for. It's about not letting systematic oppression stress us out. It's about prioritizing our wellbeing above all. 
Stress can lead to breakouts and exacerbate conditions such as eczema and psoriasis, experts say, and that's just one example of how what you're feeling on the inside can show up on the outside. 
Your mood can absolutely affect your skin and can have long-term effects on your life. 
Anxiety and stress can not only have an impact on your skin condition, it can also have an impact on how you treat your skin. Bad habits like skin-picking, bump popping, and finicking due to stress always has a major effect on the skin. 
It's time that we find joy for our people because for far too long we have allowed the stress of our circumstances to consume us.
That is why at YELLE we are building our the brand to be more inclusive of wellness and not just skincare. Implementing new products that help us cope with anxiety and stress while also fostering healthy self-care methods through routines, activities, and products that help ground us. 
Is this something you're interested in? Do you suffer from anxiety and stress? How are you coping now? 
Let's find our joy … it's cookout season! Who would you add to the cookout list?