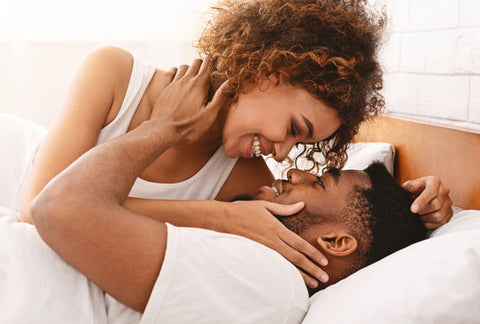 Sex isn't without its benefits: It feels pretty damn nice, counts as exercise, brings you closer with a partner, and the list goes on. But have you ever noticed that after the act and during the inevitable bathroom session, your skin kind of glows? There's a flush to your cheeks, a light misting of sweat, and from underneath, your skin looks healthy and alive. It can't just be my mirror lying to me, so is good skin something we should add to the list of sex benefits?
Well, that's because … well sex essentially makes your skin better! 
Like other forms of exercise, sex increases blood flow to the skin, which will give you a brighter complexion, making the general health of your tissues better. 
But why does it happen this way? Well, simply put, the more sex you have the more reduction in cortisol levels, aka the 'stress hormone.' This can improve collagen production," Collagen—for all non-derms—is the most abundant protein in our bodies. This protein is what helps keep our skin elastic, supple, and smooth.
In fact, we believe in Collagen so much that we are actually developing a Collagen supplement that will fully support the need to level out stress hormones. Sign up for our newsletter so that you don't miss out on notifications! 
So what does that mean? It means … get your freak on! In fact, grab your YELLE Brave collection, and start a little intimacy through self-care for him. 
Cleanse his skin with the Brave Milk & Honey Cleanser … 
Be sure to wash through his beard to eliminate oil and product build up.
Then give him a good shave followed by Brave After Shave.
The Brave After Shave is one of the most brilliant skin care products for the male complexion.  Our aftershave has both moisturizing and astringent properties. It is a toner that will
Balances and controls oil

Prevents blackheads

Controls breakouts

Hydrates the skin

Lessens signs of aging by reducing pore size
Then show him you love him with an intense No Grit Scrub combing through the tight hair follicles in his beard, breaking up all of the dead skin cells that he acquired while working so hard for his family. 
Seal the love with a little of Brave Moisturizer to let him know that you want him and his skin healthy and nourished. 
We guarantee this extra love and affection will set the mood just right.