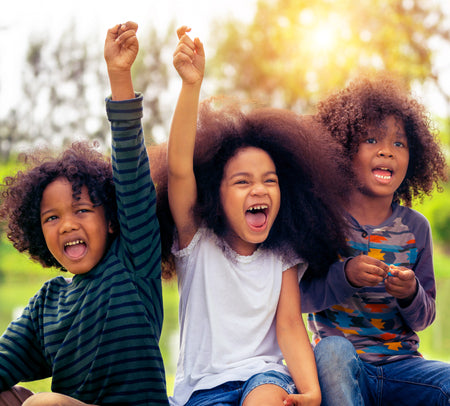 It is known that children are less active over summer break. A recent study among children 6 to 9 years of age showed that physical activity dropped by 53% during the summer months. Moreover, time spent in sedentary activities (e.g., screen time) increases. According to the national survey data, children watch more television (+18+ minutes/day) over summer break than during the school year. 
Past research also found that parents often restricted screen time during the school year to encourage homework completion, and then relaxed these rules once school is out of session.
Declines in physical activity over the summer can have adverse effects on children's health, from weight gain to skin issues because their bodies aren't moving enough to rid itself of daily toxins. 
So how do we ensure that our kids are in motion during lazy summer months?
Tip 1: Maintain the same amount of structure they had during school days. 
During the school year, children have to get up and get going, but this may not be the case during the summer. Set up a routine that gets them moving. This may involve going to summer camp, taking walks, going to swim lessons, or just having a standing playdate with friends. Continue to implement their same daily rituals like skincare routines using the YELLE Fresh Start Collection, grooming appointments like haircuts and salon visits, and health maintenance appointments like dental checkups and pediatric visits. 
Use this time extra free time at home to really deep dive into your child's Fresh Start skincare routine to teach them exactly how to use our plant-based products so that by the time school starts back they will be well adjusted to their routine. 
Need tips on your YELLE Fresh Start routine? Read this blog here
The YELLE Fresh Start system is a 3-piece kit that includes: 
Fresh Start Milk & Honey Cleanser 4oz.

Fresh Start Daily Moisturizer 2oz.

And One (1) Mask (Blemish Away Mask or Mattify Mask)
This 3-piece system was strategically formulated as a preventative and treatment skincare regimen created especially for youthful skin.  
Tip 2: Place limits on screen time
With today's kids, if given the choice, many kids will pick screen time over going outside to play. However, if screen time is limited, they may find something more active to do. One idea is to set your devices to not be accessible during school hours (even during summer) and only allow a pre-specified number of hours of screen time. Have fun and interactive activities that make them think and exercise problem solving skills without making them do work. Fun activities like:
Outdoor Obstacle Courses

The Floor Is Lava

Puzzles

Timed games

Parenting Pro-tip: If you are encouraging a fun activity, why not add in a little wellness health through wearing a face mask from the YELLE Fresh Start Collection while enjoying your activity?
Tip 3: Find a buddy. 
Kids are more likely to be active when other kids are around. Scheduling playdates, getting involved in a local kids group like scouts or a sports team are great ways to help kids maintain social relationships and encourage active play during summer. If parents are both busy working during summer, securing a fun day camp could help foster new friendships outside of school while keeping your kiddo busy.