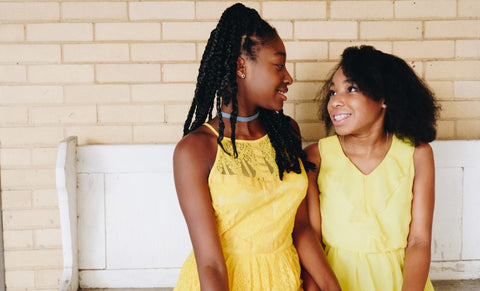 It's happening, folks –the hormones are raging and as a parent, you're also about to lose your mind! Let's all calm down for a sec and remember puberty is an uncomfortable and challenging part of life for adolescents. As a parent, you want to make sure you have all of the necessary tools to ease this transition for your kids.
Did you know that in the early 1900s, puberty was around 15 and 16, today it sets in between 11 and 12. To best support your children through puberty, you must ensure they are eating a nutritious diet, getting plenty of exercise and outdoor time, avoiding toxins when possible, and learning to manage stress.
Let's talk about how to effectively support your child through puberty. 
OFFER WHOLE FOODS AND ENOUGH DIETARY FATS
From the moment children are born, offering whole and minimally processed foods sets the stage for healthy hormone levels and lifelong balanced eating habits. Even babies are given processed foods that come in plastic packaging, and this pattern often continues as kids get older.
TEACH AGE-APPROPRIATE STRESS MANAGEMENT TECHNIQUES
Learning age-appropriate stress management techniques can make a major difference in a smooth transition through puberty.
Adrenal hormones have a powerful effect on all other hormones, and high levels of ongoing stress in kids and adults predispose them to hormonal imbalance. High stress can cause hormonal issues and increase discomforts of pre-existing hormonal problems. Stress management is essential for downstream hormones like thyroid and sex hormone production, transport, and processing.
Today, children are much more tethered to screens and are less physically active than previous generations. Paired with increased school, family, and societal pressure, these lifestyle shifts can impact adolescents' transition into adulthood. Helping your children manage stress is vital to preventing an uncomfortable puberty experience.
ADDRESS NUTRIENT DEFICIENCIES 
Adjust your child's diet to address any nutrient deficiencies, and speak with your child's integrative doctor about supplementation if needed. Common deficiencies that can exacerbate puberty discomforts include omega-3 fats (EPA and DHA), vitamin D, dietary cholesterol, and B vitamins. All these nutrients, except vitamin D, are naturally occurring in wild fatty fish, dark leafy green vegetables, and eggs.
SUPPORT ADEQUATE SLEEP
Adolescents need more sleep during this developmental stage, and it's important for parents to allow this. Inadequate sleep can lead to hormonal imbalances, trouble managing weight, an unhealthy circadian rhythm, and poor insulin and blood sugar control. According to John Hopkins, teens experience a natural shift in their circadian rhythm during puberty, making them more likely to stay up at night and sleep late into the morning. Most teens require at least nine hours of sleep per night.
STAY HYDRATED
Plenty of water is essential for detoxification and hormonal balance, and adolescents tend to prefer high-sugar beverages to water. As a parent, encouraging water consumption and incorporating fruits and vegetables into each meal helps build this healthy habit from a young age.
Remember, kids are entering puberty earlier, and their physical, emotional, and mental well-being could suffer the consequences. As a parent, understanding how to best support your children is key for helping make this transition as smooth as possible. Another big part of this lies in physical support. With all of these changes, your child is likely to experience changes in their skin. Building out a healthy skincare routine, or hygiene routine in general can support their skincare needs and create healthy habits that they maintain as young adults. The Fresh Start collection is perfect for teens entering puberty; it's a preventative treatment skincare regimen created especially for youthful skin.  It includes: 
Fresh Start Milk & Honey Cleanser 4oz.

Fresh Start Daily Moisturizer 2oz.

And One (1) Mask - Fresh Start Blemish Away Mask or Fresh Start Mattify Mask