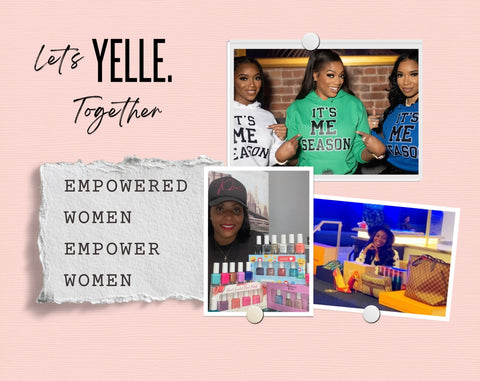 Hey Family! We are KNEE DEEP into Women's History Month, and let me just say that the support is REAL. Last week we were able to shine a spotlight on a woman-owned brand, Boujee Hippie and the response was spectacular. 
Did you know that 42 percent of businesses in the US are women-owned? While that number is extremely high, women owned businesses still fall extremely low on the resource list, with just 2.2 percent of all venture capital going to their businesses.
Needless-to-say, it's time to shake things up for our girl-bosses.
That's why we are bringing you, not one, but THREE women owned businesses to support this week. Let's dig in: 
There's no way to celebrate Women's History without shining a spotlight on Black Women's History. Our friends over at Black Women's Lives Matter are doing JUST THAT. In fact, every day their mission is to pay tribute and to celebrate and honor the lives of black women through cutting edge fashion. A portion of all proceeds from this product line will be donated to reputable, social justice organizations that support and uplift black women's interest. We aim to provide a memorable experience when you shop on our online store, offering quality products with a top rated customer service.
The founder, Dr. Jamila T. Davis, has a true 'major comeback' story that surely inspires the masses. Davis is an author, educator, community activist and entrepreneur. Featured on the hit shows "Love and Hip Hop" and VH1's "My True Crime Story," the CBS series "Pink Collar," BET's "Sister Circle," Black Enterprise, Forbes, "The Breakfast Club" with Charlamagne tha God, as well as The New York Times, USA Today and a myriad other print, digital and broadcast media. Davis has used her real-life experience and story of redemption to create a platform to empower others.
Their noteworthy streetwear fashions have a crossover of making a statement while unapologetically making some folks uncomfortable. Each piece, strategically designed to empower and speak the truth about the Black Woman's narrative will quickly make you question if you need a piece of merch in your own wardrobe. Check them out, we absolutely adore this brand. 
Next up, Laurelle Nail Color; an exclusive woman-owned nail brand that provides quality ingredients in a market that you can't always trust. The truth is for many woman, our nails is a form of expression. We love to show off our style through nail art, and pops of color; unfortunately that love can be jaded by chemically-toxic ingredients that do more harm than good. 
Owner Lakisha Laurelle saw that problem and decided to address it head-on. Growing up in Harlem, nail care was and remains a priority to self-care and expression. She spent many weekends running to the salon for a manicure to upgrade her style. Harlemites are known for not being afraid to wear bold colors that incorporate style and grace. So she decided to translate that same energy over to building a brand that offered the same stunning colors and styles that she grew up loving in Harlem, but with integrity through a vegan-formula that won't harm your nails. 
Laurelle took things a step further by also incorporating a kid's collection that was accompanied with scented nail polishes, emoji themed polishes, and a fun mommy & me collection. Take a look at all of the fly-girl colors Laurelle Nail Color offers here.
Now ladies –who doesn't want luxury brand items, but with the not-so-luxury costs? We all do, right? Our girl and CEO Lynda D wanted to create a one-stop shop for fashion lovers who love to enjoy shopping for luxury items. Why is this so important? The truth is, we know that shopping for pre-owned luxury items isn't easy –and nothing will ruin your day faster than finding out that the handbag you bought on an untrustworthy website turns out to be a replica. Owner Lynda D doesn't PLAY when it comes to authenticity. Authenticity is the cornerstone of Luxurysnob. She even staffs in-house professionals and apparel experts that ensure every item sold is 100% authentic and in excellent condition. 
Why is this brand so dope? While you're shopping for the most fabulous fashion items,  Lynda D is able to provide clients with some hard to find pieces or items that are no longer available in stores at remarkable prices. Another great factor is that they are able to help so many people get over financial humps with the ability to sell their items. Some people consign their items with Luxurysnob to help pay off debt, Pay for weddings, Buy a new home, & many various other reasons. Now that's what we call taking care of your own. Go on and browse for yourself, friend … we know there's something over there with your name on it. 
Stay tuned because we have a lot more in store. We will continue to highlight women-owned brands each and every remaining week of March with a sound understanding that we all continue to YELLE together.