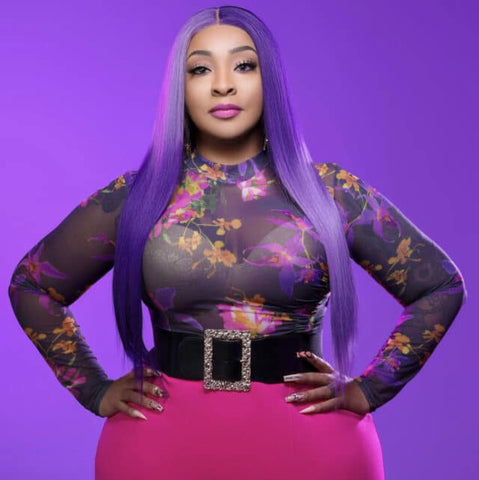 We are 3 weeks into Women's History Month, and I hope you're inspired by ALL of the Phenomenal Women-Owned brands we've spotlighted lately! 
I can't stress this enough —Support FEMALE Businesses, daily! Why? Because the system won't support us. Did you know that 80 percent of women-owned brands fail within the first 18 months of business due to lack of resources? 
So we all have to do our part by continuing to share more stories about women who decided to dream big and leap into entrepreneurship even though the odds are stacked high against them.
We couldn't celebrate Women's History without shining a spotlight on our girl, Jesseca "Judy'' Dupart. Sis is the epitome of, "Don't Believe Me, Just Watch!"
Jesseca Dupart has been doing hair for as long as she can remember. After obtaining her license Jesseca's hustle went into overdrive. She did hair out of her home and had a constant stream of clients knocking on her door at all hours of the day and night looking for Jesseca's creative touch. She was the queen of the big, tall, spritz molded styles that were hot back then. Jesseca was in her element and she loved creating new and unique styles and exploring color. So in 2013 she started her own salon called Kaleidoscope Hair Studio. Within six months business was booming. Not only did she learn how to leverage social media and marketing to increase visibility for her business, but she launched her own line: Kaleidoscope Hair Products. Jesseca's first viral campaign was called Edge police and was a remake of cops. Her and her friends ran around the city slicking down edges in party city cop uniforms recorded from a cell phone. This campaign eventually lead to millions of dollars.
When Jesseca's products were grossing six figures a month she continued doing hair. She remained behind the chair until March of 2017 well after she saw her first million dollars.
Today Kaleidoscope has retail distribution in Target, Walmart and Sally Beauty. As Jesseca's vision continues to grow so does Kaleidoscope. Her goal with Kaleidoscope is to continue to grow and expand the brand and the ways in which she uses God's gifts to help others on their health growth journey and in life period.
Recently, Kaleidoscope launched Da Brat Collection, which is inspired by the amazing protective stylings worn by Da Brat throughout the year thats promotes healthy and happy hair for an afforable price! You can keep your hair slayed and protected, who does not want that?! 
Even this woman with all the businesses, creativity and loyal supporters comes from beginnings so humble that her message to you today and everyday is "if I can do it, you can do it."
Did this inspire you? Trust us, we are inspired too! So inspired that we got our girl Judy to offer up a discount! Use code YELLE20 for a special discount. 
Stay tuned because we have a lot more in store. We will close out Women's Month with a banger! Let's YELLE together.