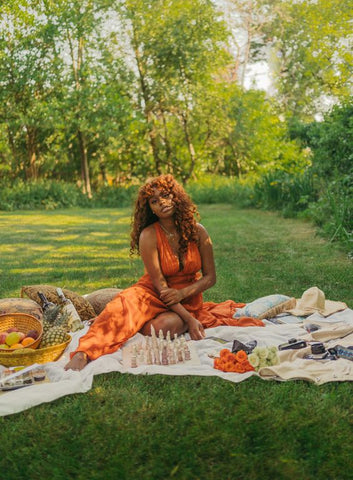 Go Green & Celebrate Earth Day Today and Everyday
Hey family! Here's the thing …Earth needs our attention more than just one day a year. Make time to celebrate the place we live, love and play in on Earth Day and every day. 
I know this is a really out of sight out of mind concept, because we are so busy living on the planet, we actually forget to treat it well. Think of Mother Earth as your home, just like you would tidy up your home at the end of each day, we should be doing the same for our planet. 
After all, it's only ours for as long as we care for it. 
Try one of the following ideas to get your Earth Day celebration started, or to carry it on throughout the year with YELLE Skincare products. 
Don't forget, YELLE Skincare is actually plant-based! While that's dope for the earth, that's actually BOMB for our skin; because who wants to use toxic ingredients on their skin? YUCK. 
A few things you can do to take care of our planet with your YELLE Skincare set is to recycle our bottles.
If you're not great at recycling, you can easily clean out and reuse our bottles, tubes, and jars for additional essentials; like:
The bottles are the perfect travel size and can conveniently store lotions, oils, makeup remover and more

The mask jars can be cleaned and can store things like cosmetic cotton pads, bobby pins, and more. 

Our serum jars can be reused to store essential oils for aromatherapy 
The possibilities are ENDLESS. 
While you're diving in your stash, I dare you to re-up your kit of YELLE Skincare because while we are taking care of mother earth, we have to remember to care for ourselves! 
Many of the plant-based products in YELLE Skincare help combat mental and emotional stressors that can be given to us from the pollution of this world. Scents like eucalyptus, ingredients like hyaluronic acid, green tea, and aloe vera all calm your skin back down from the stressors of this world. 
Take a full look at our ingredient list HERE, then shop our products by addressing your problem areas through our one-of-a-kind skin quiz.