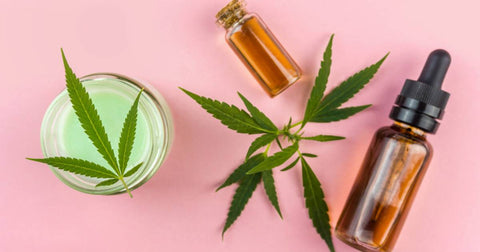 High Vibration: Infusing CBD Into Your Skincare Routine
Oh we know, that title threw you off a bit huh? Let's break it down simply, what if you could take your existing YELLE Skincare products and enhance their effectiveness further by infusing them with a single ingredient that has been shown evidence in having remarkable benefits for the skin?
Before we get into the bells and whistles, let's break down the true artform of CBD.
What exactly IS CBD? 
is an active ingredient in cannabis that is derived from the hemp plant, but it does not cause a high and is not addictive
Where does CBD come from?
CBD can be derived from hemp or from non-hemp plants. Hemp is defined as any part of the cannabis sativa plant with no more than 0.3% of tetrahydrocannabinol (THC), the mind-altering substance in marijuana.
Now let's breakdown why CBD can help us with skincare. Simply put, just like when absorbed into the bloodstream through ingestion, the body responds through soothing any stress, pain, or irritants in the body. This is specifically important for pain management, sleep cycles, immune function, and skin homeostasis. CBD is absorbed quickly through the skin for topical applications and activates ECS receptor sites in target treatment areas.
Researchers have observed CBD's therapeutic and protective effects for skin conditions characterized by inflammation, itching, acne, eczema, and infection.
What does this mean? It means people are using this ingredient gifted to us from the earth to cope with and heal stressors in the skin from skin irritants, allergies, and more.
The key to understanding potency is knowing how much CBD do you need: 
CBD oil is usually designated with a number ranging from 750MG to 12,000MG. These numbers are used to identify how much total CBD, in milligrams, is concentrated in the bottle. A 30-milliliter bottle of CBD oil containing a total of 750 mg of CBD has 25 milligrams of CBD per one milliliter dropperful dose. Alternately, a bottle with 12,000 mg of CBD includes 400 mg of CBD per dropperful.
To quickly calculate how much CBD is in a one milliliter dropperful of CBD oil, you can take the total concentration and divide it by 30.
To make the perfect blend in your YELLE Skincare routine simply add CBD oil (based on the configured dosage calculated above) to your skincare product to make your infusion and mix for 30 to 60 seconds. Voila! You've just created your unique custom CBD blend using your favorite skincare product! Now you're ready to enjoy the added benefits and bask in the glory of perfected skin.
Be sure to check out our Awakening Skincare Collection. It is the perfect kit to add CBD to. You can use these products to truly massage CBD into your skin to assist with irritation or pain management, or to just have an enjoyable and soothing self-care experience. 
Let us know if you decide to infuse CBD Into YELLE Skincare. Tag us in the content you make #YELLESKINCARE