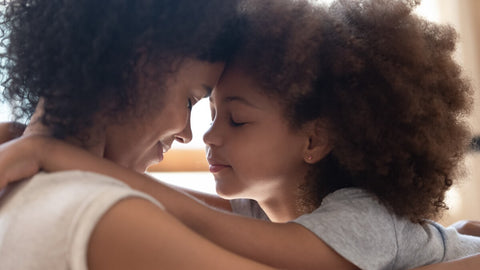 Learning to unlearn … that is the lesson with childhood trauma. 
Mom, may I ask you a question? Do you ever wonder why you're stuck in the cycle of people pleasing, perfectionism, and this undoubtedly huge fear of failing your children? 
I guarantee it is a direct result of childhood trauma. 
Many of us grow up as a result of tough or traumatic events that happened to us, molding us into the person we are today. Whether it's abuse, neglect, the bi-product of divorce, or instability. All of these backstories that we thought we buried in the back of our lives come barrelling their way to the forefront when we become parents. Those wombs and traumas that we thought we overcame and healed suddenly reappears and reshapes us as parents. 
Many are so focused on being the perfect mom and giving your kids the childhood you didn't have that you often feel  like a failure for every mistake, every moment of struggle, and every negative emotion. Simply put, that is an open womb that is a direct result of childhood trauma. 
This is the pattern that many of us go through, unaware of how strongly our past impacts our relationships, parenting, and emotional regulation. Our family dynamic is the first encounter we have as children, and the first relationships we ever form. So the result and impact of that forms our emotional regulation which in terms molds the relationships we foster in the future, our parenting style, and more. 
Motherhood in particular brings up past wounds deeply. When we care for and love our children, we often want to do a better job or improve on what we lacked as kids; but we fail to realize that we miss the most important component of being better parents, and that is SELF-WORK. 
What does Self-Work mean to parenting: it means that instead of focusing on deflecting your trauma onto your parenting style, you should work on your own healing journey as a direct way to support how you parent with your child. Your healing journey should support you as a parent instead of self-sabotage you as a parent. 
How does Bad Parenting affect kids?
Stressors can lead to chronic illnesses long term

Stroke

Chronic fatigue

Poor mental and emotional health

Post-Traumatic Stress Disorder

Social interaction limits

Repeated abuse patterns 
How does your childhood trauma show up in your parenting style?
Common fears of failing your kids

Overcompensating for what you lacked (often spoiling children)

Hyper Focused on being determined to do better

Overly relaxed parenting style (to avoid being too strict)
These extreme conditions can not only damage the relationship you have with your child, they can also have negative long-term effects on your child and their future as they adjust to life. 
The solution? 1st start with yourself, life is hard at times and so is parenting. As parents it's important that we have designated outlets to decompress and deal with stress so we don't end up misguiding our anger to our kids. At Yelle., we approach skincare from a holistic perspective and we encourage our users to use their daily routine as a moment for self care. For mothers we will be launching a the "Glow Bundle" which will include a few surprises to help you turn  your daily grooming into a spacation with the addition of aromatherapy candles to help set the mood and QR codes that feature words of affirmation, guided meditation and soothing playlists. 
2nd be intentional about planning activities that foster healthy relationships with your children. - Implement structure and routine so that you feel in control of your parenting style
Practice listening more

Find common interests   …

A great way to build a bond is through routines like skincare. Creating weekly routines like using your FRESH START KIT (designed for young adults)  and YELLE Awakening Kit ( our bestselling line)  is a great way to teach healthy habits while having designated time to talk, connect and bond.  Practice your own boundaries with your parents

Building your own boundaries will help you keep the stress from your own trauma suppressed. It gives you a sense of control. If you are interested in developing a better relationship with your own parent(s) but don't know where to start, follow the same guideline of finding something in common, like your love for skincare. Maybe invite your mom over for a little girl time and enjoy exchanging beauty secrets while using YELLE's Awakening Collection for a little self-care and let the generational healing begin.. and retain moisture to add elasticity to your skin making it more youthful and bright. 
You know here at YELLE we are always about setting the mood. Our founder Yandy always believed that if you change the atmosphere to stimulate joy, you will become joy. That's why you always see her dancing in the mirror while she's using her YELLE Skincare products. She personally put together a YELLE Self-Care Playlist with all of the vibes you need to find your peace within. We can't wait to share it with you so check back for updates!