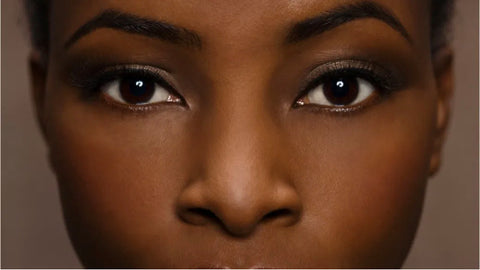 Believing some common skincare myths can cause (or worsen) the very skin problems you're trying to correct or avoid. Learn fact from fiction as we 'buss down' 5 believed skincare tales and offer tips to making skin-friendly choices.
Myth 1: Skincare is one regimen fits all
Whatever your skin type, choose a regimen that supports the health of your all-important skin barrier to help you look and feel your best. The protective outer layer of skin contains a lipid or moisture barrier that protects you from your environment and keeps natural moisture in. When your skin barrier is performing at its best, your skin looks firm and plump. It also has a natural dewy glow. Keeping your moisture barrier healthy is important to get the results you want to see in the mirror.
Find your groove in a skincare routine that speaks and works for your lifestyle. If you do this, it will be easier for you to maintain a healthy skincare regimen.
Myth 2: Skincare is only for your face
That skin barrier we discussed above? It covers and protects the skin all over your body. That means the rest of it needs just as much care and attention as the skin on your face.
Don't neglect the other 'thin skin' areas of your body, like your neck, and your ears. Here are some tips for maintaining that skin as well.
-      Turn down the heat in the shower. Too high temperatures can cause more harm than good, like drying your skin out.
-      Use your skincare products on your neck, chest and ears.
-      Sleep elevated to ensure blood circulation meets these areas.
Myth 3: Beauty Sleep is only real in fairytales 
Sleeping in until noon on Saturdays will not erase scar tissue or banish your laugh lines. But studies suggest consistently getting a good night's sleep will do wonders for your skin long term. And, conversely, getting poor rest can have highly damaging effects on the skin.So if you're wondering why you constantly wake up with dark circles, drink some water and get to bed early. 
The saying "you look well rested" is true!
During sleep, your body goes into repair mode. It gets busy eliminating old, dead cells, making new ones, and cleaning your body of toxins. When you shortchange yourself of a full night's sleep, you're missing out on hours of collagen production, which can lead to your skin sagging and looking older sooner. You also won't get the normal amount of blood flow to your face necessary to give you a healthy, rosy glow.
Myth 4: Oily Skin Doesn't Need Moisturizer
The truth is, if your skin is overproducing oil, it may actually be dehydrated. And oily skin is probably acne-prone as well, so using a daily moisturizer might sound counterproductive, but that's a skin care myth. Won't a moisturizer clog my pores and make me break out?, you may ask. Not if you choose the right one! Make sure to choose a lightweight moisturizer that infuses your skin with hydration without potential pore-clogging ingredients. Avoid silicones and heavy emollients like butters and oils, which are better suited for dry skin. If you're worried, opt for a plant based brand like YELLE Skincare.
Myth 5: "Black Don't Crack" 
Now this is our most favorite myth to debunk. Sis, black DOES indeed crack. In fact, in some cases it cracks the most! Acne and hyperpigmentation is prominent in black skin, and it's because we think we don't need to practice a good skincare routine. I'm here to tell you, you do. Get to your routine, and keep it in motion for a consist 2 weeks. You will see a world of a difference from what you assumed "black does and doesn't do". 
Do you have any other myths you'd like us to debunk for you? Hit us on IG with the hashtag #YelleSkincare