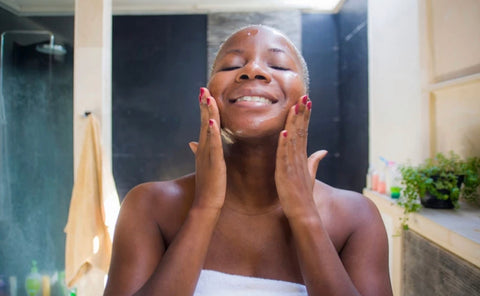 Could your skin do a spring clean? We think so! The truth is, after Old Man Winter comes along, he dries out our skin, intensely. It's hard to get things back in tip-top condition, especially with warmer months approaching so you gotta get on a new skincare regimen fast!
Trust us, these tricks will make a world of a difference in dry-dull skin:
Exfoliate Weekly: It's a great idea to exfoliate weekly but don't overdo it. Avoid exfoliators with harsh ingredients like kernels and microbeads, both are harmful to the planet so imagine the number they are doing on your skin. Instead opt for plant-based exfoliants like rice-grains, it is much gentler on your skin. Remember not to over-do it. A little goes a long way!
Apply A Mask, Weekly: The same applies, don't over-do anything with your skin. That includes masks. There are many different types of face mask available so choose one that addresses your own skin concerns. Clay masks help to draw out impurities and reduce blemishes although they can be rather drying.If you have combination skin, consider applying to the T-zone only and using a hydrating mask on the rest of your face. Sheet masks are among the most effective at restoring hydration to skin.
Don't Forget Your Sunscreen: Aim for sunscreen that has a minimum SPF30. You want to reapply regularly, so finding something that can sit nicely on top of your YELLE Skincare products and makeup is ideal. The key to sunscreen is remembering to apply 30 min before going outside. This ensures that the sunscreen sinks in nicely. 
If you follow this regimen along with using our YELLE Skincare Essential kit, you should be all set for spring, trust us!
There's nothing better than having flawless skin as the weather breaks. You're trying to be the most flawless at brunch, right?