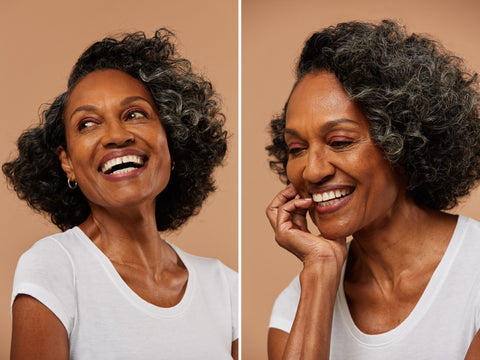 Are you one of those in-betweenies? Not quite ready for aging skincare, but you know that you should consider it? Don't worry … we can relate. 
You see, using anti-aging skincare products doesn't mean that you're old. It means that you have concerns with your skin that tends to appear in mature skin. Dryness? Wrinkles? Rosacea? Flakiness? Dullness? All signs that point in the direction that your skin simply needs a boost! 
Here are 4 of our favorite natural ingredients that you should look for when fighting against aging skin
Vitamin E
Vitamin E is known to provide many benefits to skin which justifies its use in many types of skincare products. Its main use is an antioxidant. Vitamin E is known for its aid in skin's elasticity and preventing the formation of wrinkles. 
Additionally, Vitamin E helps retain moisture in the skin, making it great for combatting dryness and flakiness. 
Glycolic Acid
Glycolic acid is known to stimulate the production of both collagen and elastin, thus smoothing out fine lines and wrinkles. It is also a powerful exfoliant, therefore it increases the turnover of cells in the skin's outermost layer, transforming rough, dull and wrinkled skin to smooth, radiant and younger-looking skin.
Aloe Leaf
Aloe vera extract helps in naturally increasing the production of collagen in the body, which further helps in reducing the visible signs of ageing such as fine lines and wrinkles. Collagen helps in decreasing the wrinkles and helps in skin tightening. It also improves the elasticity of skin. It is abundant with water, so it helps to hydrate the skin and seal in and retain moisture.
Caffeine
Though caffeine does have its negative effects, it is a strong antioxidant known for its anti-aging benefits. On the surface it can help to reduce redness and diminish the appearance of wrinkles.Caffeine has anti-inflammatory properties and stimulates blood circulation around the eyes, which can help reduce the appearance of dark circles and swelling. It's absolutely astonishing at what it does to aging skin.
So you see, you don't need all those chemicals after all. Mother nature gave us everything we needed for flawless skin, right here in the earth. If you're wondering what ingredients pair well with YELLE Skincare products, well the answer is ALL OF THEM. You can find many of these ingredients already infused in our products. Vitamin E is one of the key components to our Awakening collection, as it helps rejuvenate and brighten the skin. While Aloe is our second most used ingredient as it helps heal and protect even the most sensitive skin types.