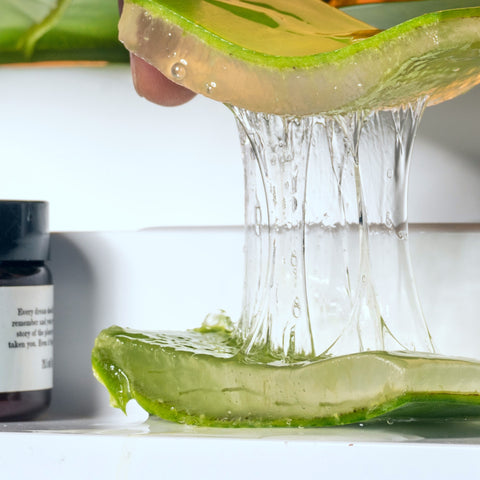 Hyperpigmentation is darkening of the skin. It may affect small areas of skin (small patches of skin may darken), cover larger areas of skin or affect the whole body. The condition is usually not harmful; however, it could indicate a sign of another disease.
This natural ingredient is an ancient healing agent used amongst natives
When it comes to skin, the aloe vera benefits are no joke. Aloe vera is a natural, plant-based ingredient that's been used for medicinal purposes for, well, seemingly forever. When you open up the leaves of the succulent plant, you'll find a clear, jelly-like gel, which is rife with healing properties that are great for treating cuts, healing burns, and scars, and moisturizing the skin. So I'm sure you can only imagine what it can do for your skincare regimen
Aloe vera gel is incredibly moisturizing for your skin, hair, and scalp. Aloe vera leaves, particularly in the innermost layer, are abundant with water, so it helps to hydrate the skin and seal in and retain moisture. 
The aloe plant not only heals, it fades dark spots
If you have pesky dark spots, aka hyperpigmentation, aloe vera has your back (or face, lol). A compound called aloesin, found in the aloe vera plant, single handedly tackles the fading of dark spots, treating and healing the skin from the inside out. Studies have shown that when applied four times per day for 15 days, the results can be like night and day when compared.
In addition to healing, and fading, the aloe plant soothes even the most sensitive skin.
It's topical jelly-like texture takes on cool temperatures making it a therapeutic-like sensation for your skin which is known for instantly calming any flareups or breakouts you may be experiencing. 
You can find aloe in every single YELLE Skincare product. Why? Because we know how important it is to deliver quality plant-based ingredients to you. The safety and sensitivity of your skin is important to us and we pride ourselves in delivering you a prestige skincare experience.