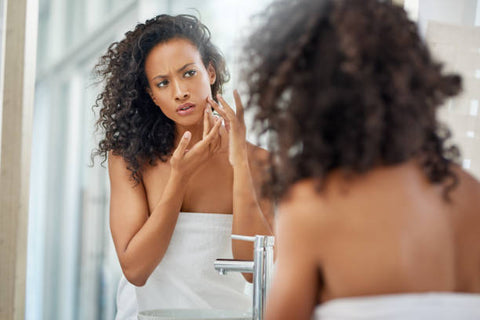 So you've booked a few flights for summer travel, huh? That's super exciting! But you may want to prepare for your skin freaking out at the new scene. Here are a few reasons why you may experience breakouts when you travel.
Weather
Depending on which direction your wanderlust tempts you toward, your skin has to adjust from cooler temperatures to warmer ones, or vice verse. When you go from hot and humid to cold, your dry skin pays the price. You might experience rough patches, and if you suffer from eczema or psoriasis, you could also have a flare-up. Going the other way? Traveling from a dry cold environment to a hot and humid one, your skin can produce more oil and sweat and you're more likely to get acne.
How to Deal: You can combat both of these by consistently washing your face and applying a daily moisturizer. If you're someone who breaks out easily, be sure to implement your Awakening Serum as it provides an extra layer of protection against weather change.
Stress
If you're not used to running to catch a boarding flight, translating every sentence into a new language or planning a packed itinerary that ensures you see all the sights, travel can be stressful. Though hiccups are bound to happen, when you fret continuously, your body produces stress hormones. 
How to Deal: We recommend calming your skin back down when you get to your destination by giving yourself a nice shower and moisturizing Yelle's Awakening moisturizer. 
Time Change and Jet Lag
Ever wake up in a new destination, after countless hours of travel, and wonder "Where am I?" When you dance between time zones, hopping from Europe to Asia, Australia and beyond, your internal clock becomes a bit rewired. It isn't dangerous for your health since most adjust within a few days, but it does interrupt your sleeping habits—meaning you don't collect Zzzs as easily, or you're tired at odd times. "Your skin can often look dull or uneven in these cases and often people forget to wash off their makeup upon landing," Dr. Sarkar notes.
How to Deal: Our best solution is to travel with a clean face and exfoliate mid-flight. Eye patches or an eye cream kept in the fridge with caffeine is a great option to help decrease puffiness and dark circles as well.
Cuisines
The captivating aroma of the night markets of Thailand, the endless selection of tacos in Mexico, the cheese, pasta and bread of Italy. Ask any frequent flier and they'll say that one of the best parts of escaping your home country is sampling the cuisine of the world. Some people can happily eat dairy or sugar without it affecting their skin, but studies have shown that high levels of dairy and especially sugar cause some people to break out. 
How to Deal: In this scenario, it might feel like you have to make a choice: suffer the zits or avoid the food. But instead of skipping out on these flavors and dishes, be proactive by carrying and being selective about your meal choices. How so? Give yourself one or two "cheat meals" a day and the rest of them, eat smartly. And of course, drink plenty of water to keep your pores healthy and also to keep you fuller so you won't eat or drink quite as much.