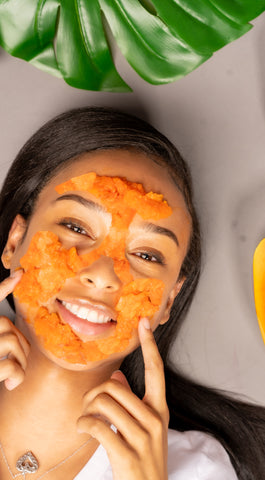 Even when Halloween season wraps up, pumpkins are still everywhere during fall. From Lattes to baked goods and on the front door steps of the houses in your neighborhood. But have you ever considered using this traditional squash produce in your beauty regimen? Studies have shown that pumpkin is loaded with vitamin A, C, and E making it extremely beneficial for your skin. It's also rich in antioxidants that have been proven to fight aging and add much needed elasticity to the skin. The best part is, when paired with YELLE Skincare products, your skin will have an afterglow like no other.
Face masks are our thing over here! If you've ever caught our founder Yandy Smith-Harris on Instagram, you'll see first-hand how much she values her skin-prep time in the mirror. So let's add to this much needed me-time with our favorite Pumpkin Infused Face Mask using YELLE Skincare products.
You will need:
2 Tbsp organic canned pumpkin puree or 1 small pumpkin
1/2 tsp organic honey
1/2 tsp milk (we recommend skim, but you can substitute soy, pea or almond if you prefer non-dairy)
YELLE Awakening Milk and Honey Cleanser
YELLE Awakening Serum
YELLE Awakening Milk & Honey Toner
YELLE Awakening Moisturizer
Directions:
1: Start with clean skin. Remove all makeup and wash your face with your YELLE Awakening Milk and Honey Cleanser. Then lightly tone your skin with your YELLE Awakening Milk and Honey Toner so that it lightly exfoliates the skin before applying the mask.
2: Combine pumpkin puree, honey, five drops of YELLE Awakening Serum and milk in a small bowl and mix well. If using a fresh pumpkin (or leftovers from a carved jack-o-lantern), scrape the insides and remove the seeds. Beat the gooey insides to a creamy pulp and mix with honey and milk.
3: Apply the mask using your fingers or a medium-sized makeup brush; avoid getting the mixture too close to the eyes. You can also apply to the neck, do-so, but consider doubling your ingredients to ensure you don't run out. 
4: Allow the mask to set for about 20 minutes. 
Gently wash off the mask with a warm, damp washcloth and follow with a moisturizer.
Gently wash off the mask with a warm, damp washcloth and follow with your YELLE Awakening Moisturizer.
And just like that you've enjoyed a nice moment of self-care that is sure to have your skin looking and feeling more hydrated. If you're still wondering if pumpkin is the produce for you, make sure you test it out in a small area first before applying all over your facial area.