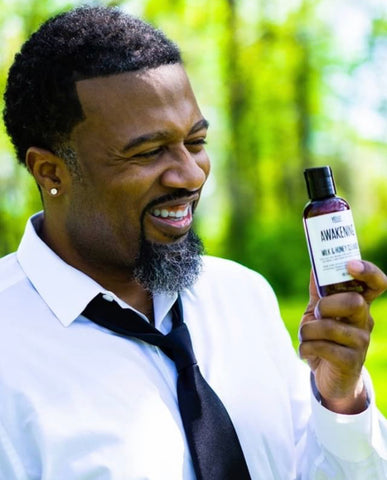 Skincare for men, specifically black men, can become difficult for darker skin. From issues like uneven skin tones, to dramatic skin irritation from shaving, black male skin can have more issues than most. 
Let's keep it real, most guys don't know a thing about skincare and aren't interested in maintaining a healthy skincare routine in general; but that's why you have #TeamYELLESkincare to the rescue. We've put together a simple skincare routine for even the most un-interested man in your life to follow that will bring about healthier skin in no time.
Check it out:
Step 1: Cleanse
While in the shower cleanse your face with a gentle facial wash to remove any build up on the skin that can potentially clog the razor. YELLE Skincare's Awakening Milk and Honey Cleanser is gentle enough for even the most sensitive skin but works hard to remove build up and bacteria.
Step 2: Exfoliate
Using a facial scrub is a very important step you don't want to skip, especially if it's shave day. Since you probably have curly facial hair, exfoliating will help soften and lift up any hair that has already grown into the skin, eliminating hair bumps. Scrib the entire shave area to ensure our hair is protruding as high as possible. Be gentle when exfoliating, there is no need to apply heavy pressure.
Step 3: Shave
Continue with your normal shave methods but avoid these two techniques when shaving: avoid pulling the skin tight and avoid a clean shave. Pulling the skin tight is one of the biggest causes of in-grown hairs as it cuts the whisker below the skin. You want to make sure you still have a tiny millimeter of hair to prevent ingrown hairs and razor bumps.
Step 4: Aftershave
After shave is important because it soothes the skin after shaving. Finding an all natural after shave with calming ingredients like aloe can be helpful in further soothing the skin. After shave is also an antiseptic, keeping bacteria and inflammation at bay. 
Step 3: Moisturize
Don't skip the moisture, because healthy skin is moisturized. Using a nourishing moisturizer will ensure that your skin's health is in tip-top shape after shaving. This will help soften your skin and even the skin tone that was freshly shaved. YELLE's Awakening Moisturizer has nourishing ingredients like coconut milk, jojoba oil, and aloe which single-handedly moisturize and restores skin to a healthy state. 
Have a handsome fella that you want to share this information with? Pass the message along, and tag us in your skincare journey on Instagram! @YELLESkincare