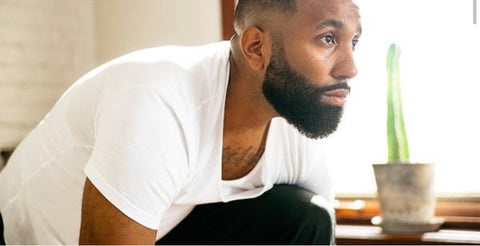 Acne is defined as skin breakouts that occur when the pores become clogged with dead skin cells or bacteria. Blackheads, whiteheads, cysts, and pustules are the result of these clogged pores. 
Acne is the most common skin condition in the United States. The American Academy of Dermatology estimates that acne affects 50 million people each year. 
While acne rates have risen, so has the rate of dairy and processed food consumption in the America. Acne has many causes, and every person's skin is different. But there's significant evidence to support the idea that dairy can irritate or cause acne for some people, especially the fellas. Statistics show that men consume on average 32% more dairy than women. This could be contributing acne induced breakouts. 
Dairy cows are treated with artificial hormones that affect their milk supply. Those hormones may throw your hormones off balance when you consume milk products. This could trigger acne. Another theory is that the growth hormones already in milk naturally aggravate acne no matter what. 
A third theory is that milk products, when combined with the high levels of refined foods and processed sugars in the our diet, disrupt insulin levels and make skin more prone to acne.
So how do you combat this problem with a solution? Fellas, it's simple, if you are experiencing regular breakouts and cannot figure out what is causing them, look into your diet first. Slowly eliminate ingredients until you notice a difference in your health.
Additionally, put a consistent skincare regimen in place to help your skin find a solution that soothes. YELLE's Brave Collection is a perfect every-day skincare system that puts the needs of men's skin health as priority. Powerpact with products that work together as a system, this collection addresses every single need you may have for your skin troubles. 
In this complete Brave Essential System you will receive: a Milk and Honey cleanser,  a No More Grit Scrub, an Aftershave, and a Daily Moisturizer. Using this essential 4 piece system consistently will improve your skin and help you fight against acne breakouts that may be caused by a diet that includes dairy. 
Are you a dairy consumer? Or have you made the switch to dairy-free products? No matter what your preference is, there's always an opportunity to find a lifestyle that suits you best. 
Be sure to tage us in your #YELLESkinCare Brave Collection packages when they arrive, we'd love to see our fellas using our products!