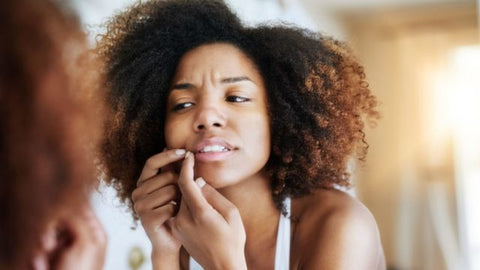 Life may be life-ing sis, but you don't have to look like what you're going through. We all want our skin to look its best throughout life's stages; but the fact remains that more likely you will actually wear your stress every day. Did you know stress can affect the appearance of your skin? Yes, it's science! This fact is the confirmation you need to put your mental health first for good. Afterall, you don't need the extra stress, and your skin sure doesn't. 
Here's the real-deal: stress and anxiety can have a negative effect on the appearance and function of the skin. In fact, stress is known to affect all components of the skin, from its appearance and texture, to its elasticity and more.
Stress can affect the appearance of your skin by causing a chemical reaction that can make your skin more sensitive and reactive. How does this work? Stress is a natural response to fear. When your body goes into (di)stress, it triggers a natural hormone, cortisol to kick in which switch you to survival mode. This hormone, cortisol, in a sense is your "fight or flight" button. While this is a completely normal process for the body, it is however survival. Your body over produces glucose and insulin, often making you more oily than usual, which in terms clogs pores, resulting in … breakouts. 
This most often appears as redness, acne, and other breakouts, which are caused as extra oil is produced to make up for the dryness often caused by stress. Stress and anxiety can also increase inflammation, worsen pre-existing skin conditions, lead to product reactions, and cause the skin to become red or itchy, develop bumps, and experience a slew of other issues. 
On the opposite side of the spectrum, stress and anxiety can also cause dullness. Depression and anxiety can cause people to develop several unhealthy habits like skin-picking, pimple popping, and so much more all as a result of soothing or coping with anxiety. If this continues for a long period of time, a person's skin can begin to dull or darken. Unfortunately, sometimes, these changes to a person's skin color can alter the pigmentation permanently. 
Additionally, Stressful situations can trigger a shift in hormones throughout the human body, which can negatively affect the skin. Heightened stress leads to changes of the serum level of many hormones. Some of these include growth hormone, glucocorticoids, prolactin, and catecholamines. 
So you see –stressing is just going to mess you up in the end. We can't have that, you've worked too hard to get the glow from YELLE Skincare. 
Let's talk about a way you can naturally cope with stress and anxiety. Some of our favorite methods to cope with stress is to:
Strategize your day so that you aren't overwhelmed

Put your body in motion

Write out your feelings on paper

Enjoy the sun (it really makes a difference)

Get out to spend time with friends

Start a new hobby
Once you actually put your racing mind at rest, you will start to feel the sense of peace in your life. Not only will your body thank you, but your skin will thank you. 
Incorporating your skincare routine into your self-care routine is the surest way to take care of your skin while also taking care of yourself. Our 5-Piece Essential Kit comes with everything you need to ensure that you can practice a little self-care in your own bathroom. Take a look at all of the natural ingredients that can be used for your entire family.