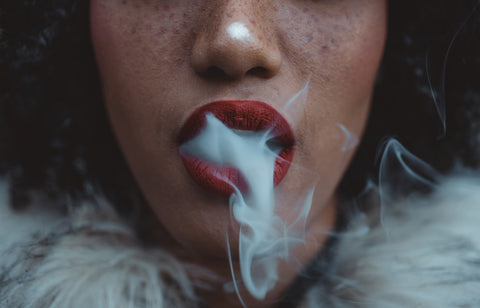 The dangers of smoking tobacco are widely known. Grisly warnings about smoking are sprinkled everywhere from cigarette packs to the FDA's award-winning youth tobacco prevention campaign, "The Real Cost". In recent years a growing perception has emerged that e-cigarettes i.e. Vaping products and hookah are less harmful than traditional cigarettes. E-cigarettes have become a replacement for more traditional and successful cessation programs and hookah lounges are a form of recreation. The truth is these products come with risks and while the research is still on-going there is enough evidence suggesting the potential harms of them on the skin. Our YELLE Beauty Team wants to keep your skin looking good and we feel hookah and vaping should be avoided. Here's what you need to know about how e-cigarettes and hookah harm the skin:
E-Cigarettes and Hookah DO Contain Nicotine
According to the Centers for Disease Control and Prevention (CDC) Hookah cafes are gaining popularity in the US. Hookah also called narghile, shisha, and goza has many of the same health risks as cigarette smoking. Hookah is not a safe alternative to smoking cigarettes its water pipes delivers nicotine and deprive the skin of oxygen. E-cigarettes also contain nicotine, the same drug found in cigarettes.
Impedes Collagen and Elastin Production
Any form of smoking will prematurely age the skin hookah and vaping are no different. Both hookah and vaping starve the skin of oxygen and limit blood flow to the skin which in turn impedes collagen and elastin production. It ages the skin by creating a dull and dehydrated environment, promoting premature aging, and deep wrinkles.
Impedes Wound Healing
While e-cigarettes do not contain tobacco or tar they DO contain nicotine. Nicotine is harmful to the skin and has been shown to delay wound healing by reducing anti inflammatory responses and reparative cell functions in the skin. This leads to delayed healing and complications. Think about acne scars for example, by smoking you slow down the healing process and impair the skins ability to properly repair itself.
Accelerates Skin Aging and Other Harms
Smoking shisha seriously affects the skin and will likely increase wrinkle production just like smoking an actual cigarette would. In fact because of the way the hookah is used, smokers may absorb more of the toxic substances also found in cigarette smoke than cigarette smokers do and the sweetened and flavored variations don't make any difference on its effects. In fact the FDA does not regulate flavoring substances, so we really don't know what is in e-cigarettes ingredients can vary between brands. Dull skin due to the lack of oxygen, decreased response to collagen stimulation, and accelerated aging are all a reality with e-cigarettes and hookah. The lack of nutrients and oxygen destroy the skin.
Reversing the Effects
We all have our vices, if you have been able to put down the e-cigarettes and steer clear of the hookah lounge scene CONGRATULATIONS! While it is difficult to reverse the long term effects of smoking a peptide rich antioxidant serum like our YELLE Awakening Peptide Boosting Serum can help counteract free radical damage caused from smoking. A touch of our A Dream Brightening Eye Cream with hyaluronic acid applied around the mouth can help soothe smoker's lines.
Want more awesome skin care tips and news like this? YELLE Skincare is obsessed with sharing easy and healthy ways to keep your skin looking great. Sign up for our newsletter, follow us on Instagram and start on one of our YELLE Skincare routines.
Written by Regina Tucker