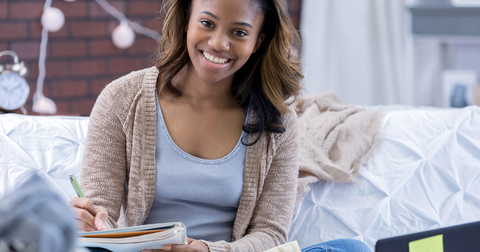 Just like that, class is back in session! Students are moving into their dorm rooms, leaving their parent's safe nest for good. While campus living may sound fun, it can also be crammed and a bit unsettling living out of a small space. You literally share everything from living spaces and bathrooms to dining areas and washer and dryers. With going back to school in the middle of a pandemic, you have to take extra precautions that you have everything you need especially for your skin. 
It's easy to lose sight of your skincare routine while dorm-living because everything isn't easily accessible to you. But YELLE Skincare is here to narrow your list down for must-haves you absolutely need to keep in stock to ensure that your skincare routine is in tip-top shape while dorm living. 
YELLE Skincare Complete System
This 5-step system is perfect for a busy student that just doesn't have the time to keep up with a complicated skincare routine. Completed with a wash, toner, moisturizer, eye cream, and serum, you literally have everything you need for a great skincare regimen. As if having a nice skincare bundle wasn't enough, YELLE Skincare's Complete System is the perfect size to stash away in a travel-friendly skincare compartment
A Traveling Skincare Station
Creating a skincare station that can easily transport down to the bathroom makes keeping a skincare routine so much easier. If your dorm room has an in-suite bathroom you should consider using a tiered rolling cart that can easily store all of your skin needs on each level.
Level 1: Face
Level 2: Body
Level 3: Hair
If you have to physically haul everything down to a different level with shared bathrooms, you should consider bringing back the 'old fashioned' caboodle. It is a toiletry tote that is sturdy enough to stand the test of time. Which is perfect for moving around with, in case you drop it, or it accidentally falls while in transport. 
Makeup and Cleansing Wipes
Since getting 'in the bathroom' isn't always as easy as it sounds in a dorm room. Always, always keep makeup and cleansing  wipes on hand. This way, if you need to remove anything, or quickly clean anything you always have the option.
Remember wipes aren't the best way to clean your skin, so do not treat using a makeup wipe or a cleansing wipe as a cleansing method. You should still follow up with your YELLE Skincare Complete System to give your skin the proper deep cleanse it needs. 
Cotton Pads
Let's be real, everything about a dorm room screams germs. From the door knobs, to the dirty floors, and all of the shared spaces in between. We just don't trust it. So avoid making direct contact with your face unless your hands are completely clean. Using cotton pads on your skin is much safer than using your hands. So cotton pads absolutely come in handy; and they are perfect for that 'broke college student' budget. Cotton pads can be used for washing your face with YELLE Skincare's Awakening Wash, for applying makeup, and for so much more. It's a staple on the skincare tool list. 
Now that you're headed to #DormLife … we want to see just how you make the space uniquely yours, especially when it comes to your skincare. So tag @YELLESKINCARE in your new DIY Travel Skincare Station so we can see exactly how you styled the project.