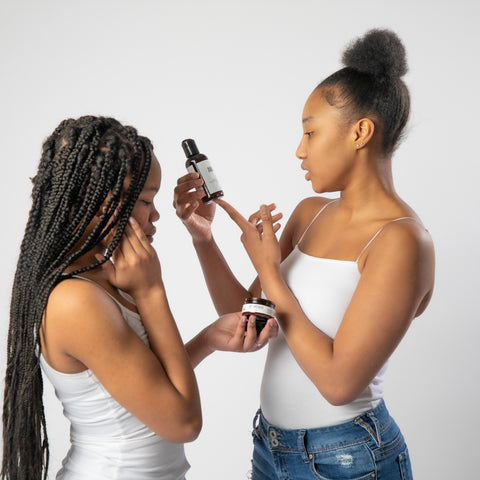 Classes are presuming even in the middle of a pandemic, are everyone's all out of whack, mentally, physically and emotionally! The burden of even attempting to begin school which combatting a global crisis could easily have an affect on you and in terms, create a hormonal imbalance. 
So how does one avoid a hormonal breakout, especially when school is back in session? Well there is no straight answer, in fact studies show that an estimated 57 percent of women have acne that is triggered by your hormones. 
What could be causing it?
Menstruation

Increased Androgen Levels

Stress

Anxiety

And more
How can I avoid or help clear hormonal acne?
Wash your face in the morning and at night
Surprisingly enough, so many people skip cleansing facial skin, especially at night. Washing your face is vital to maintaining clear, healthy, and balanced skin. So be sure to wash twice a day, morning and night. YELLE Skincare carries the most gentle and affecting cleanser, the Awakening Milk and Honey cleanser. Created with rich enzymes and natural ingredients like honey, and papaya, your skin will feel clean and pure after just one use.
Avoid using acne products all over your face, instead only do spot-treatment
    If you are battling a breakout that is severe and requires acne products, be sure to not spread the products all over your skin because it could dry your entire face out. Instead practice the spot treatment method. With clean hands, use a cotton swab and dab the acne product directly on the spot that needs treatment. In terms this will dry out any oily acne problems you face, without compromising the healthy skin that surrounds your breakout.
Continue with your normal skincare routine
Deciding to switch your skincare routine during a major breakout can be brutal on your skin's health. The last thing you want to do is to introduce a new product while in the middle of a break out. So instead, stick to a healthy routine that has already been in place, use spot treatment on your problem areas and let your skin heal completely. Once you have healed, then begin to implement new regimens to your routine.
If you are looking for a standard skincare system to follow, YELLE Skincare's Essential System is a perfect starter system that comes complete with a facial wash, toner, and moisturizer. 
Wear sunscreen daily
    While we love the sun, over-exposure can be quite damaging to our skin. So it is important to limit the skin's exposure to the sun while dealing with a breakout. Typically SPF 50 is standard on needed protection as it blocks 3 percent of UVB rays from directly contacting your skin. If you are looking to add SPF to your skincare routine, you should use it after you have moisturized and allowed your pores to close. 
Since class is in session, we want to avoid showing up on the first day with a major break out … because that is not the vibe we are going for. Follow the simple steps we've provided and your skin should maintain a good state for back to school.