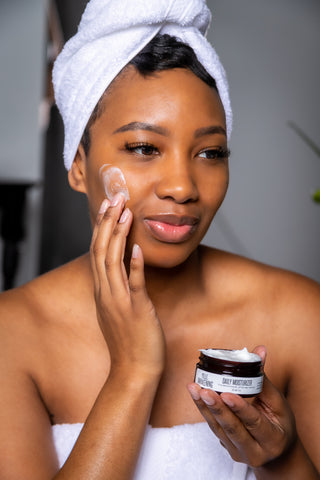 You want the glow without the grease, sis? We get it! Who doesn't want bright, glowing skin? The dewy look is a summer-time staple and it's one of the best ways to brighten your face. 
If you're looking for a dewy look, check out our five-step routine to help attain it:
Moisturize

- The secret to dewy skin starts within! Your skincare routine absolutely comes first. Make sure you are using a moisturizer all over your face and right after you cleans to rehydrate your skin. For best results use a moisturizer that doesn't have alcohol like YELLE Skincare's Awakening Moisturizer. It is power packed with plant based ingredients like coconut milk, jojoba oil, and aloe. 
Use A Matter Primer

- Using a matte primer will help control the oils that make you look greasy. Give the primer a few minutes to set and then move on with your skincare routine. 
Wear An Illuminating Foundation

- The key to dewy and not greasy is all in the foundation you choose. Try an illuminating foundation that still has a full-coverage finish. If you need heavier coverage consider using a concealer. 
Highlight For The Gods, Sis

- Swipe that highlighter on your cheekbones, cupid's bow, brow bone, and inner eye like you're a walking trophy. The shimmer from the highlighter will pick up the light on all of your 'high points' making your face appear dewy with a healthy glow. 
Finish With A Finishing Spray

- Wrap up the entire look with a dewy setting spray. Using this will set your makeup in place and combat your own natural oils keeping the greasy look away for a longer period of time. If you skin still builds up oil you can use blotting papers to mattify your look a bit. 
No matter the skin type, dry, normal or oily, you can go for your dreamy dewy makeup look. In fact, we want to see! Tag us in your best dewy look on Instagram @YELLESkincare