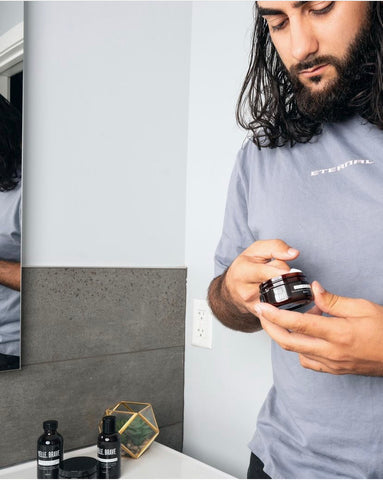 Fellas, we all want that smooth butta, Morris Chestnut, Taye Diggs skin, right?
Let's be real, the professionals at YELLE Skin Care are 1000% sure that even Morris and Taye have struggled with some skin care concerns at one point or another… but there's hope!
Do you remember the day the first pimple broke out on your skin? You had no idea then what you were in for. Your skin had always been smooth, clear, and manageable: you'd never needed to spend more than a moment's thought on your face. And then, there was that one red spot, or that hideous dark spot.. Soon all hell broke loose—and under it all you were scarcely recognizable. 
We're all way too familiar, and the saddest part is everyone assumes this is only an issue for teens… NOT. Acne often lasts far into the adult years and can be a part of your entire life, so it's about knowing how to maintain a strong skincare routine. Whether you're genetically predisposed toward acne or one of the lucky few who get away with no more than a few red zits, a good skincare routine can make a night and day difference and our Brave Collection is specifically curated with men's skin needs in mind. Here are our top ten tips for getting rid of acne or bringing your breakout under control with our complete Brave system.
Quit Touching Your Face!
Your hands go everywhere, so when you bring them up to your face you're bringing a host of aggravating bacteria right where it can do the most harm. Keep your hands away from your face as much as possible. Even when they're clean, you don't really want them up there: rubbing, scratching, and popping pimples only make them worse.
Chill On The Caffeine.
If your skin is prone to breakouts, indulging too often in Jack and Coke, and heavy sodas may not be the best thing for you—and you'd better lay off the energy drinks as well. Caffeine increases your stress hormone levels—cortisol, in particular. This may make you more alert and awake, but it also increases the amount of oil secreted by your sebaceous glands.
Keep Your Skincare Routine Simple.
When people see skincare products, they often go for the most complex options out there, when really simple is best. Simple ingredients like YELLE's Brave Collection are plant-based and power packed with pure ingredients like coconut milk and aloe leaf making it safe for even the most sensitive skin. You want to avoid products with heavy fragrances and alcohol, an ingredient found in many toners. These substances tend to dry out and irritate the skin, making acne worse. Instead, stick with a high quality product you can count on: our men's standard skincare set, for example.
Create An Acne Friendly Routine. 
Wash your face with lukewarm water (and, perhaps, a little of our Brave collection facial cleanser) before shaving. This eliminates oils, gunk, and bacteria and gives you a clean slate on which to work. Use fresh razors whenever possible, and don't be heavy handed: gentle strokes, always with the grain, will minimize aggravation.
To learn more about our new Brave Collection, specifically designed for our beloved brothas in mind CLICK HERE (add link to collection)