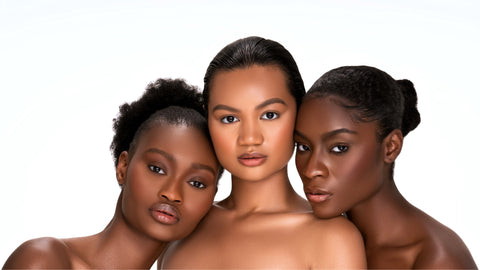 It's Hot Hot Hot! Summer days can be daunting during the month of August, the sun's rays are beaming on our glorious melanated skin. It's only right that we shield it with a layer of protection. 
If you haven't noticed, your skin needs tender loving care 365 days of the year, sis … how else will you maintain that healthy glow? We tend to neglect our skin as the days become busier, and with "outside" being open-open for good, it's a must that we put our skincare first. We've put together a list of 4 things you should be doing to protect your melanin this summer. 
Hydrate With a Hydrating Treatment or Serum
During warm summer months, you'd be surprised by how dehydrated you and your skin gets. So pack on the moisture with an intense treatment like YELLE A Dream serums. Each and every night, add your serum to your skincare routine to ensure that you are hydrating where it matters. 
Tone To Sweep The Day Away
Toning your skin is essential because it is a gentle light exfoliant that will help you cleanse away every day debris your skin may encounter. Using a gentle plant based toner like YELLE's Awakening Toner is a great way to boost your skin's health. It's packed with antioxidants like aloe and Amino Acids, you are sure to replenish your skin with the healthy nutrients it needs. 
Jade Rollers For The Win
Using cooled jade rollers is a great way to step your skincare game up. Not only does it help with the application process of your skincare routine, it's cool temperatures are known to increase lymphatic drainage. Additionally, if used correctly, your skin will be in for an at home spa-like experience. Trust us sis, don't skip the Jade Roller. 
Sleep On Silk …
Switch your linens to a healthier alternative like satin or silk. Not only is this healthier and softer for your skin, it also doesn't hold nearly as many germs as typical cotton does. The soft material protects your skin (and hair) from friction that causes breakage or tears. So it's perfect for tossing and turning through the night. 
Are you already implementing some of these practices into your every day routine? If so, which is it? Tag us in your next post on IG and tell us how you protect your melanin.