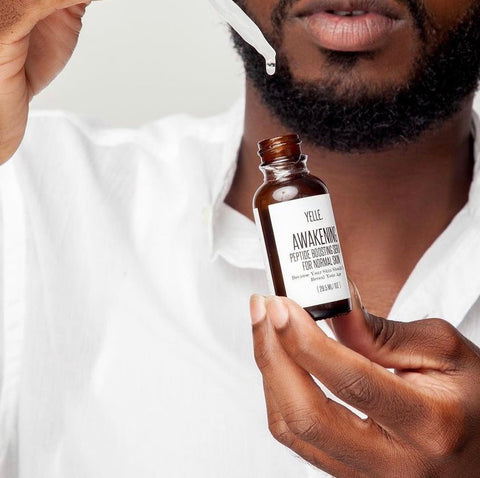 Now that the secret is out about Yandy Smith's Newest YELLE Collection, Brave … we thought it would be a great idea to dive into some men skincare convos
Everyone deals with skincare problems, but surprisingly, not everyone does something to fix them. We're here to share some really easy steps you can take to improve your overall skin health.
Even for the fellas, who doesn't want their skin to be in tip-top shape? So guys, if you're struggling to achieve blemish-free skin here are a few tips for you:
  ALWAYS WASH YOUR FACE BEFORE BED AND WHEN YOU WAKE UP. When you're tired and the bed is calling your name, it's easy to skip your nighttime wash. Then in the morning, when you're running late, avoid skipping that morning wash. This will change the game for elevating your skincare routine. 

  FOCUS ON YOUR BREAKOUTS. Wherever your acne is on your face reveals hidden clues as to why you're breaking out. For example, around your mouth means hormonal changes, on your forehead can be stress. Knowing what's happening to your skin causes you to understand how to treat it.

  STICK TO YOUR SKINCARE ROUTINE. Once you create a routine, stick to it and be consistent. Try to be timely with your routine as your skin adapts to the process you're implementing. Once your skin has adapted, it will respond positively to that routine.

  EXFOLIATE. For my 'manly man' who does the grungiest jobs, exfoliating is your friend because it gets rid of your dead skin cells that can easily clog pores. YELLE's gentle toner is a great every day exfoliant that will save your skin from excessive build up, and oils preventing breakouts. 

  EAT WELL. One may ask, what does food have to do with skincare. It has EVERYTHING to do with skincare. What we eat shows in every aspect of our body, especially on our skin. Avoid sugars, increase your water and eat superfoods that hydrate your body for the best skin experience. 
If you're really looking to take things to the next level, use the complete YELLE. Brave collection to fortify great men's skin health.