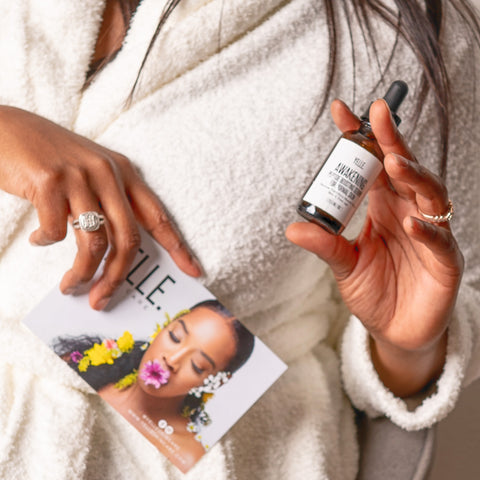 What Is Hyperpigmentation and How To Get Rid of It
Having hyperpigmentation means constantly trying not to touch the acne, cuts, or pimples on your face and hoping they don't leave dark marks.
People with darker skin can run a higher risk of developing dark spots and uneven skin tone because they're more sensitive to factors that can cause or further develop hyperpigmentation, such as sun exposure. The more a dark spot is exposed to the sun, the darker it becomes in comparison with lighter skin surrounding it. Without proper prevention practices in place, the struggle to get rid of it becomes tougher.
Acne is one of the main culprits of hyperpigmentation because the infected area is inflamed, which can eventually lead to scarring. Picking and squeezing don't help.
The best approach to the skin is to not over treat it but, literally, a hand's off approach — applying less product and applying it less frequently is more effective than standing in the mirror with a minute-to-minute application.
That said, there are simple steps that, over time, can help dark spots, or hyperpigmentation, go away, and can lead you to the glow up you deserve.
In the name of blemish-free skin, let's uncomplicate this process:
What Causes Hyperpigmentation
The list of factors that can lead to hyperpigmentation is endless because any irritation can cause it. Acne, cuts, scrapes, waxing, and rashes are just a few of the main culprit of hyperpigmentation is sun exposure, because it can cause irritation to the skin (such as sunburn) or darken an already present mark.
How To Get A Grasp on Hyperpigmentation
 it's still what you want to do to help keep hyperpigmentation at bay. The most crucial part of prevention is a consistent routine: 
Consistently washing your face twice a day, morning and night.
Using a moisturizer and toner simultaneously to protect skin.
And adding in a mask to lock in treatment and moisture. 
Our Fresh Start collection has everything you need to get a hold on hyperpigmentation and brighten your dark spots for good. 
Check out our complete collection on YELLESkincare.com