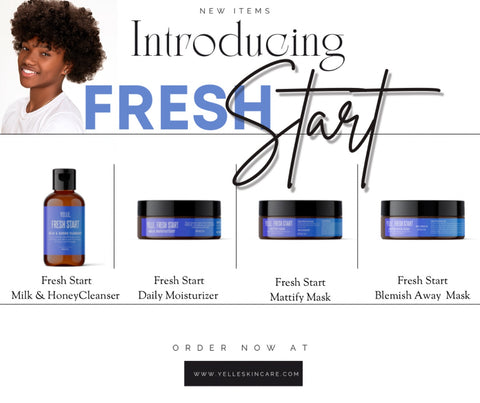 Introducing a healthy skincare routine to your teen is one of the best things you can do for them. When it comes to skincare in your teens, it's a rollercoaster. In some ways, things are less complicated. Because young skin has that undeniable bounce and plumpness all of us old-heads are coveting, you needn't worry about endless concoctions and serum cocktails chasing what comes naturally for teens. However, there are other battles you have to contend with as a newbie to skincare.
When it comes to a teen's first skincare routine, we like to keep it as mild as possible.With key ingredients like Aloe leaf, vitamin e, sunflower oil, and rosehip seed oil, you can't go wrong with creating a great canvas for your skin. 
If you're looking to dive into YELLE's Fresh Start Collection, here are 4 ways you can easily do so:
   

Use the complete system. YELLE makes skincare easy by formulating complete systems for you to use. This makes it much easier so that you don't have to 'figure out' what products will work best for your skin. They are all specially formulated to work hand-in-hand with each other. 

   

Mask off. Seriously, if you're looking to change the game in your skincare routine, our Blemish Away Mask will have you taking your "mask off" in the streets because your skin will look so healthy and polished! This product can be used with the complete system or individually for a fun skin treat. 

   

Moisturize over everything. If you haven't learned anything from us, you should at least know, moisture is the most important factor. Using the Fresh Start Daily Moisturize will single handedly elevate your skin's health

   

Be consistent. Creating a skincare routine doesn't just happen overnight. It's done with consistency and effort. Make sure that you're committed to a routine that you can do repetitively. Once you do that your skin's health will fall into place. 
Do you already have a skincare routine that works for you? Share it with us on Instagram by using the #YELLESkincare hashtag