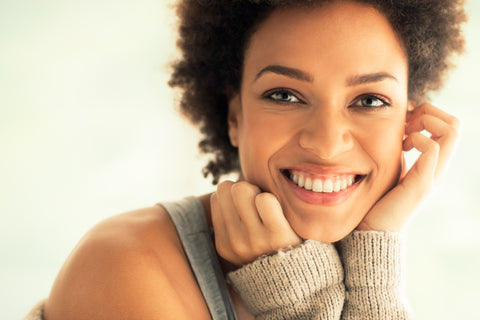 Life is happening around us all day, every day. As we welcome change into our life and live life on life's terms the affects can be experienced on our skin. It is true, what's happening in our lives influences what our skin looks and feels like. Curious about which life events can spawn changes on the skin? Keep reading to learn more.
Childbirth/Pregnancy
As your hormones and blood flow shifts during pregnancy and after childbirth your skin will feel the effects. Some individuals experience the famous "pregnancy glow" thanks to the hormonal changes and increased blood flow. Other women become more sensitive to certain skin care products during pregnancy. Products that you may have been able to use before becoming pregnant are even off limits during this time. Gentle, fragrance-free products work best for women who are pregnant or have recently given birth. The YELLE Awakening Milk & Honey Cleanser, toner, and, moisturizer are all gentle fragrance-free options suitable for sensitive skin.
Bariatric Surgery
Loose or sagging skin caused by a significant amount of weight loss in a very short amount of time is very common among individuals that have had weight loss surgery. Unlike weight loss that occurs over a slower period of time, bariatric surgery usually removes 100+ pounds at one time and the skins elasticity does not have time to catch up. The most effective way to address the excess skin is through cosmetic surgery.
Stress
Stress can affect your whole body including your skin. Everything from rashes to skin sensitivities are possible when you are under too much stress. You might also notice an increase in breakouts due to an increase in the stress. When you are under stress your body produces more of the stress hormone cortisol, which is responsible for increased oil production which may in part lead to an increased amount of breakout on the skin. Stress can also put a damper on your sleep and impact the appearance of your eyes and skin. Try to get at least eight hours of sleep each night, apply A-Dream brightening eye cream to moisturize the eye area, and talk to your health care provider if stress is negatively impacting the quantity and quality of your sleep.
Cancer
A combination of age, lifestyle, environment and genetics all affect a person's risk of developing cancer in their lifetime. If you have a cancer diagnosis your skin may feel the effects from oncology surgery, anti-cancer drug therapy, and radiation therapy. You may also become sensitive to certain skincare ingredients while undergoing treatment. Cancer can be overwhelming, it is important to work with your health care provider and a licensed professional specifically trained in oncology so that your skin care needs are met in a safe, comfortable, and individualized manner.
A good skin-care routine is an important part of a healthy lifestyle. We would love for our products to become a part of your life. Learn more by taking our Skin Quiz to find the right products for your skin.
Written by Regina Tucker