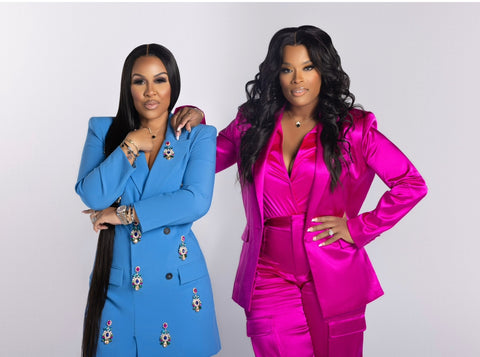 Happy International Women's Month! While we love a good holiday to celebrate being women, it is always a good idea to support women-owned brands 365 days of the year. Women on average earn at least 30 cents less to every dollar a man makes, even less if they are a woman of color; on the women drive up to 80% of shopping decisions, so it's important to put our money where it matters and back in the hands of those driving the culture. Let's put main energy behind supporting women owned businesses! This is why we're spotlighting 4 trailblazing female-founded companies we love for Women's History Month. Let's dig in:
Meet Boujee Hippie. - Serving BAWDY Since 2019. 
Boujee Hippie's mission is to help every woman love and accept every version of herself. The brand does this by offering a diverse range of products that support women's wellbeing (mind, body, and soul). Established in 2019 by Black female entrepreneurs Tiffany Obryant-Mims and Ashley Antoinette, Boujee Hippie is a multimillion-dollar business that continues to grow. What started as a small idea between friends has transformed into an entrepreneurial anomaly founded by Black women and its success proves that Black women create magic. Black women can do it all, and their celebrity endorsement roster from B Simone, Supa Cent, Yandy Smith, and DaReal BB Judy, to name a few, proves just that. 20% Off their entire site. Use Code "IAMWOMAN". 
They have identified spaces where Black women didn't exist like the health and fitness lane, the shapewear industry, and the reproductive care markets. Their new goal is to provide self-care for Black women in all areas we have been neglected by mainstream companies. They created a total body detox. They launched a sensual and shape reforming shapewear line that contours your problem areas and increases confidence. They developed a natural Apple Cider Vinegar supplement that gives you energy to tackle life at your best. They even developed a Period Panty that makes that time of the month easier for women of color who are known to suffer from longer and heavier periods. In a nutshell, they are taking up space and building tables that make their Boujee Babes better.  20% Off their entire site. Use Code "IAMWOMAN". 
The Trimdown Transformation System is the ultimate weight loss kit.  It includes the IGNITE Fat Burner, Boujee Hippie Meltdown Detox and the Boujee Hippie Apple Cider Vinegar Gummies! The purchase of the system will also include the Downloadable 21 Day Transformation Meal Plan for FREE to jump start your new healthy lifestyle. See the benefits of each product below:  20% Off their entire site. Use Code "IAMWOMAN". 
IGNITE Fat Burner: A metabolic fat burner that doesn't just incinerate unwanted body fat but helps align your mind with your body goals. Infused with ketones that keep your body in a calorie burning state, it helps reduce appetite and gives increased energy to help you tackle your day.  
Boujee Hippie Meltdown Detox: Weight loss detox that will jump start your weight loss journey.  The detox is designed to cleanse the body of unwanted toxins and provide visible results within 15 days.The Meltdown Detox supports digestive health, helps reduce bloating, and supports weight loss.
Boujee Hippie Apple Cider Vinegar Gummies: Apple Cider Vinegar is a natural energy boost without the jitters that come with caffeinated alternatives. It supports Immune function and improves weight management by curbing your appetite and promoting healthy digestion. It helps reduce bloating and encourages water intake as well.
If you think Boujee Hippie only has weight loss products, think again! Here is our favorite body shaper to help you shape and contour your midsection while you're losing all those pounds!
Bawdy Yoga Pants
Made with super stretch material they mold even the most curvaceous figure while the ultra-compression keeps all your assets in the right place. Whether you're working out or just in need of a super cute legging to finish off your casual day look, the Boujee Hippie yoga pant is for you.