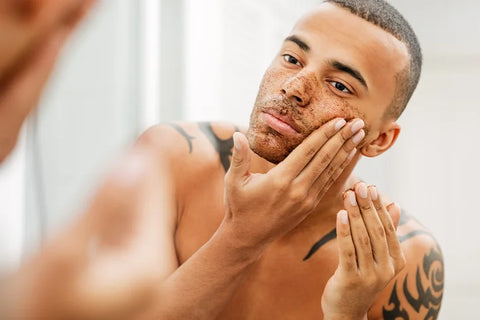 Proper skin care is a must, regardless of gender. But if you have never used more than bar soap, here are some things you should know about skincare.
Skin is the largest organ we have. It protects our internal organs, helps regulate temperature, and provides first-line defense against illness. However, our skin is also prone to a variety of disorders, more than 3,000, to be exact. For this reason, everyone needs to know when a minor rash needs further investigation. But in a world where skincare is tailored more towards females, it is not uncommon for men to ignore their skin health. Men, just like women, need to determine their skin type on their faces as well as the rest of their bodies. Men also need to remember that sun damage does not only happen on the face. It happens to any area of the body that is exposed to harmful UV rays regularly. To ward off ongoing chronic skin issues.
Men start to show the first signs of aging in their late twenties to early thirties. Some develop fine lines and wrinkles around the eyes where others develop deeper lines in their foreheads and between the brows. But aside from the natural aging process, a number of skin disorders can contribute to aging that you should be vigilant of. Severe psoriasis and dermatitis can create thickened skin, which leads to accelerated aging. For this reason, men not only need to use sunscreen religiously but also treat any skin conditions they have. Contact dermatitis, psoriasis, and eczema require ongoing treatment to keep skin looking silky smooth.
Facial hair also plays an important role in skin health. Men not only have more collagen and elastin than women, but they also have facial hair, which offers stronger support for facial structures. Facial hair is already prone to oil build up, which means men who already suffer from oily skin are more prone to acne flares. Combined with a rougher texture, this can also lead to increased skin sensitivity. Men should perform gentle exfoliation, along with proper shaving techniques, especially for those who prefer the clean-shaven look. Ingrown hairs are more than painful; they can become a source of infection.
We get that skin care has generally been sidelined for women in the past. But in this day and age, more and more men are beginning to understand the benefits of having a good skincare routine. From fighting adult acne to minimizing the signs of aging, taking care of your skin is important no matter what societal influences may be telling you.
So ladies, we have to get our fellas use to having a skincare routine, and what better way to do it than to do it for them. With the holidays approaching, you can easily whip out YELLE's BRAVE SYSTEM and give your man a facial right in the comfort of your home. You can show him that it's cuffing season with these nontraditional form of intimacy. He would love and appreciate the gesture and simply being touched. While men typically overlook skincare products when they are taking care of their bodies, it's up to us to remind them how important it really is and that skincare is truly a form of SELF CARE. 
Check out our BRAVE collection, here!