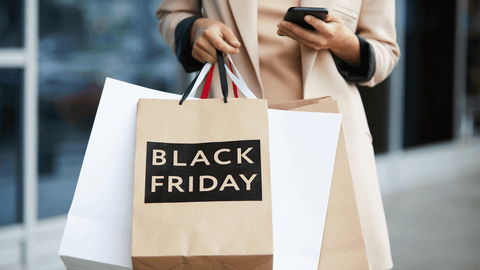 The Best Way To Save: Black Friday In JULY!
Did you grow up in one of those households that tried to cut corners at all costs? Well in 2023, when the US dollar isn't as valuable as it was before, we could all stand to use some of those childhood lessons we learned about saving and stretching our dollar. 
In actuality, Black Friday in July stemmed long before Amazon Prime Day ever existed. In fact major retailers like Best Buy and Target were one of the first to ever adopt the term. However, Amazon made this day a major power move bringing about huge sales that makes everyone want to shop, shop, shop!
Now what should you do with Black Friday in July sale wins?! Here are a few things Team YELLE came up with to make sense of spending your hard earned cash.
STOCK UP. 
With Black Friday in July, you're able to refresh your home inventory before the real Black Friday Sale, making it easier for you to save more on products and put away products for a rainy day. 
THINK OF OTHERS. 
Now's the time for you to look out for everyone that you care about. Grow skincare items for you, and the entire family. Your kids are heading back to school and they need their FRESH Start Collection to be locked and loaded!
Host a gift exchange
I mean, since we are doing a Black Friday sale –why not go on and have Christmas in JULY? Have a fun pamper session with the girls –incorporate the complete kit, a bottle of rosè, and Mariah Carey Holiday playlist!
Shower your friends with a YELLE Stocking Stuffer, like the Awakening Eye Cream or the Fresh Start Mask(s). 
Whatever you choose, make sure that you make the memories, while saving a pretty penny too. 
Most of us know how expensive things can be during warmer months. We have to wait until the end of the year to take advantage of big sales. Not anymore! 
Heading into July 2023, with Black Friday in July, most people shopped apparel (51%), home goods and appliances (48%) and consumer electronics (44%); but YELLE Skincare thinks it's a good time to offer a huge sale so that you can enjoy your major savings just like it's our usual BLACK FRIDAY sale in November. 
So take advantage! Head over to YELLE Skincare and take our SKIN QUIZ to learn exactly what products your skin needs in order to thrive with a glow like no other. Once you get your skin results, shop one of our kits or bundles that caters to your results.