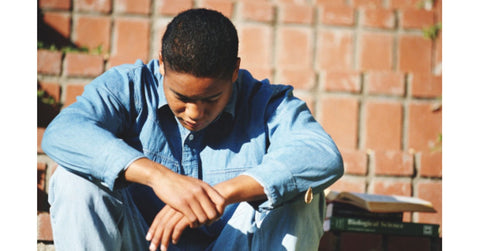 Did you know that seasonal depression can affect us in more ways than you know? 1 in 10 people are affected by SAD during summer, and most go without any coping or treatment therapy. Why? Because many don't believe you can experience any low moments during summer. The sun is shining, the days are lower, so we just don't feel any need to treat underlying issues that one may have and not recognize. 
Nonetheless, those who are experiencing Summer Blues know that it can be difficult to cope. Many who suffer feel they're supposed to be having fun, but their symptoms prevent them from doing so, leading to isolation. 
Maybe you're one of these people. Maybe you know someone who seems to be in a particularly foul mood this summer. While everyone is at the beach, taking walks outside and having backyard barbecues, you're sitting there thinking, when will summer just end already?
This can be especially true for teenagers who are out of school and away from their normal everyday routine. For many, Teens with depression require structure and schedules to keep their minds and their bodies focused and occupied. During the summer, all of the structure and scheduling from school related activities goes out the window, leaving most teenagers with too much free time. This allows their minds to wander. Summer also comes with isolation and school provides teenagers with opportunities to remain connected with others by building relationships and friendships. These relationships help combat depression.
When you are stressed and anxious, your skin suffers. You want to ensure your teen is consistently using their FRESH START Collection to incorporate a consistent skincare routine that they can maintain on their own. 
If you're experiencing Summer Blues as an adult, you may need a switch in your scenery, or to unwind from all of the tasks you experience every single day. The most common form of depression is clinical depression which can be triggered by sudden loss (a loved one, an important role like your job or a chronic illness like cancer or thyroid issues). Immediately after that is melancholia depression which can be triggered by environmental factors, trauma or more. 
As adults we go through so much in life and don't realize how it's affecting us because we are operating out of survival. It's time to thrive again. You deserve to GLOW, sis. 
While you're focused on your mental health, let's prioritize feeling our best all across the board with our Bundle Kit. It's perfectly paired with the 3-Piece YELLE Awakening Essential items, an aromatherapy candle and an ultra relaxing playlist to bring about peace and tranquility. 
What does aromatherapy do for your well-being? It is known to relieve pain, discomfort, improve mood, and promote a sense of relaxation. In fact, several essential oils, including lavender, rose, orange, bergamot, lemon, sandalwood, and others, have been shown to relieve anxiety, stress, and depression.
It's the perfect way to fight back to feel good again during summer. After all, you should be focused on enjoying the extra hours of sunshine while you have them for the next few months.