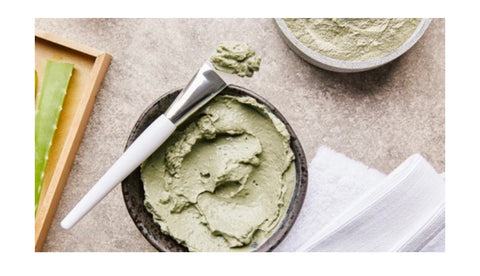 It's no secret that the way to beautiful skin is through natural ingredients. Afterall that's what YELLE Skincare was founded on, quality plant-based ingredients that elevate the work our skin naturally does to repair and maintain itself. 
One of our most favorite ingredients is Aloe Vera, in it's purest form. It's such a natural healing ingredient and can be used for multiple skin treatments. You can use it as a primer before applying foundation, a soother for sun-damaged skin, a makeup remover, moisturizer, even as a scalp treatment for irritated follicles. It only makes sense that Aloe Vera is the ultimate DIY face mask, both potent enough to target whatever skin issue you have (being it irritated, discolored, or sun-damaged skin) and gentle enough to prevent dryness and breakouts.
We absolutely love to pair Aloe Vera with Honey. As a natural antibacterial honey pairs perfectly with aloe while promoting healthy skin cell growth and works as a mattifier for oily or acne-prone skin. 
So how do we mix the two ingredients … easy, with this simple but extremely effective DIY YELLE Aloe and Honey infused facial mask.
What will you need?
-      One aloe vera leaf
-      1 tablespoon of honey
-      YELLE Awakening Milk & Honey Cleanser
-      YELLE Awakening Brightening Serum
-      YELLE Awakening Milk & Honey Toner
-      YELLE Awakening Daily Moisturizer
Mixing Instructions:
-      Slice your Aloe Vera leaf along the edge of the leave, peeling the leaf open, then scrape all of the gel from the leaf into a mixing bowl
-      Scoop 1 tablespoon of honey into the mixing bowl
-      Add 5 drops of YELLE Awakening Brightening Serum to mixing bowl
-      Stir for nice smooth consistency
-      (optional) Mask can be applied to skin warm for the ultimate relaxation experience
How to apply your mask: 
-      Begin with a clean face using your YELLE Awakening Milk & Honey Cleanser
-      Once skin is clean and pat dry apply an evenly generous amount of mask to your skin, avoiding eyes, nostrils, and mouth
-      Allow mask to sit and rest on skin for 15 minutes or until it feels firm
-      Rinse skin in warm water to remove mask
-      Pat skin dry
-      Apply YELLE Milk & Honey Toner to replenish skin
-      Apply Awakening Daily Moisturizer
If you're interested in implementing this simple mask routine into your skincare regimen, we recommend applying it to your skin twice a month as a healthy start. Once your skin adapts to the new routine you can increase as much as once a week. Be sure to test in one area first to ensure allergic reactions are at bay. 
Looking for more easy DIY skincare routines? Be sure to follow us on Insta @yelleskincare