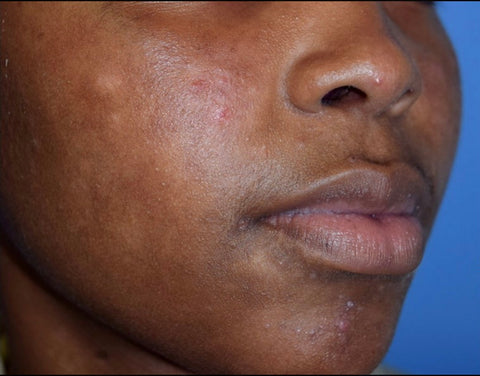 Rosacea and psoriasis are both common skin conditions that can cause some similar symptoms. It can be hard to know which one you have without talking to your doctor, but there are some key differences that can help you tell one from the other.
Rosacea and psoriasis are both lifelong conditions with symptoms that come and go. Most people have flare-ups and more mild periods called remissions.
Rosacea usually affects the skin at the center of your face, especially your cheeks, nose, and chin. Signs include:
Flushness or redness

Bumps and pimples

The skin of the nose can get thicker.

Stinging, burning, or tightness of skin

Swelling

Dry, rough, or scaly-feeling skin
Psoriasis, though, can happen anywhere on your body. But when it appears on your face, it's usually in the eyebrows, around the nose, and at the top of the forehead in the hairline. The symptoms can look similar to rosacea:
Red patches

Dryness

Itching or burning

White bumps filled with pus
Triggers
Rosacea and psoriasis have some of the same triggers: stress, some medications, alcohol, changes in the weather, and for some people, allergies orr certain foods. Psoriasis can also be triggered by infections and skin injuries.
Doctors aren't sure exactly why people get rosacea or psoriasis. But both conditions tend to run in families. Problems with the immune system lso seem to play a role.
Coping
On top of medical treatments, many lifestyle changes can ease symptoms of rosacea and psoriasis:
Avoid smoking
Find ways to lower stress and lessen anxiety.
Maintain a balanced diet.
Exercise. If it triggers your rosacea symptoms, do it before sunrise or after sunset and at low to medium intensity.
Practice gentle skin care like YELLE's Fresh Start collection that is plant-based and made with the gentlest ingredients. Maintain a healthy and consistent regimen for best results. 
Take steps to avoid sunburn or over-exposure to the sun.