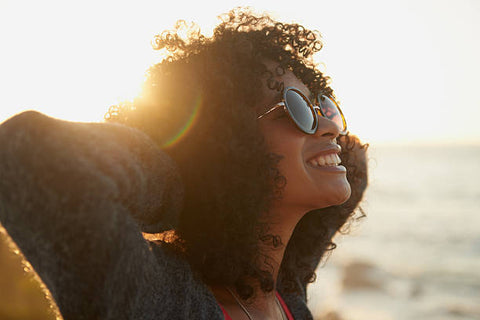 For centuries black people have run from the sun. Society has taught us that it is more dangerous to our brown skin to be out in the sun too long. We fear becoming darker, we shield ourselves from over-exposure … but little did we know, we actually need more sunlight than we think. The truth is, the more melanin, the more sun you need to regulate your vitamin D. 
While the sun can indeed be harmful, speed up the aging process of the skin, expose us to harmful levels of radiation, it can also have some good effects, too. 
With the proper amount of sun protection in place, the positive effects of the sun can go far beyond what you might expect. Here are two key  benefits that a dose of sunshine can provide to keep both you and your skin feeling great
The Sun Produces Nutrients Your Skin Needs
Many people, especially women of color experience low levels of Vitamin D. But that can be a problem, considering vitamin D is a key component in maintaining healthy bones and skin. It's also essential in maintaining a healthy body in general, from fighting fatigue, maintaining a good mood, stomach sensitivity, gut health and so much more. Your body needs Vitamin D, and the release of its serotonin level. When serotonin levels in our bodies are just right, there's a greater likelihood for your body to heal itself naturally by blood clotting, wound healing, and the new growth of skin cells. This means that your skin's care needs serotonin. 
The more you enjoy sunlight and vitamin d, the better off your skin will be. 
We often think about how the sun can damage skin, but for people with certain skin conditions, the sun can actually be a kind of medicine. For instance, psoriasis and eczema cause rashes and lesions; natural UV exposure can actually heal the skin. 
But even for those who don't have specific skin issues, taking in a few UV rays may give you a healthy glow. Research shows that sunshine can actually nourish the skin; paired with a healthy skincare routine like using YELLE's Essential Kit before heading in the sun each day. 
Remember to treat and repair your skin each day before bedtime. The Awakening Serum will restore damaged cells for a more youthful, more even toned complexion. 
In fact, vitamin D has an active form as calcitriol, and contributes to skin cell growth, repair, and metabolism. This is important because these key ingredients fight aging prematurely.
Great skin may have a massive impact on your outward appearance, but it starts from within. Moderate sun exposure is associated with all kinds of health benefits, so don't be afraid to enjoy the benefits of the sun. As long as you're smart about how (and when) you catch some rays, you can safely look forward to whatever tomorrow's sunrise brings your way