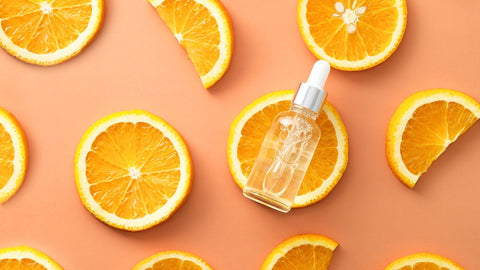 Vitamin C is a firm favorite in the beauty industry, thanks to its brightening and tightening properties. The ingredient is frequently recommended by dermatologists as it harnesses multiple skincare benefits, and is safe to use on all skin types. 
Want to see what vitamin C can do for you? Let's break it all the way down!
For starters … what really IS Vitamin C? I know that sounds pretty basic, but we really need to break down the compounds and components to fully understand how it works in our melanated-magical skin!
Vitamin C (also known as ascorbic acid on ingredient lists) is a water-soluble vitamin that has antioxidant benefits for the skin when applied topically (think: fading hyperpigmentation) and immune-boosting benefits when ingested. "It's important to get adequate vitamin C in your diet and vitamin C levels are correlated to eating fresh fruit and vegetables," says Humphrey. She suggests pairing dietary vitamin C with topical applications to yield the best results.
Vitamin C has long been considered a skincare staple because it's not just a one-trick pony—it has multiple skin benefits when used properly. Vitamin C protects the skin from UV damage, it suppresses pigmentation (goodbye, dark spots!) and it also preserves the integrity of collagen and elastic fibers and even promotes synthesis of collagen. Because it is such a powerful antioxidant, vitamin C is able to help minimize sun damage and inhibits melanogenesis, which is the process of pigment formation in the skin.
So if you're still wandering through your ingredient lists or wondering if you still need it, the answer simply put is YES. 
The key to all of this is making sure you know the correct formula of Vitamin C for your skin. This means, how much is the perfect amount for you? You should look for stable 10% to 20% L-ascorbic acid (a specific form of the vitamin) mixed with vitamin E for better absorption.
While Vitamin C can be recommended to use at night, it's usually recommended for daytime use because of its free radical protection, something your skin generally needs more of during the day due to pollution and UV rays.
Now let's break down the YELLE ingredient lists that contains Vitamin C and why they are so POWERFUL for your skin. 
The YELLE Awakening Hydrating Serum for Dry Skin –This serum is a concentrated active Vitamin C for a beautiful radiant glow while plumping skin's firmness and restoring.
The YELLE Awakening Peptide Boosting Serum for Normal Skin –  Includes a  powerful peptide boosting serum for normal skin. A healthy overdose of Vitamin C, an antioxidant that stimulates collagen and minimize signs of aging.
Vitamin C is truly the beauty secret to repairing and restoring the state of your healthy melanated skin. Keep in mind that it can take two to four weeks of daily usage to see results, so keep a close watch on your skin. If it starts looking brighter, that's a sure sign your vitamin C products are working.