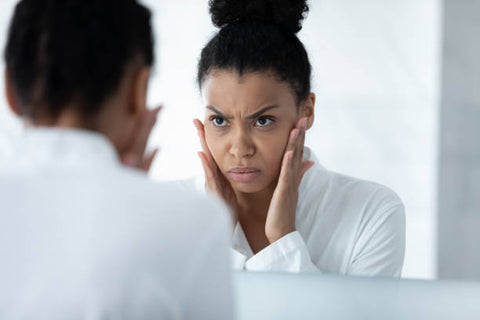 Should you be scared of alcohol based ingredients in your skincare regimen? The answer is YES, you should. But we break all of that down and more for you. 
Understand this:  it's more important to understand the difference between "good" and "bad" alcohol types.
Let's talk about why alcohol is typically put in skincare products. Simply put, alcohol helps antioxidants like vitamin C and retinol sink into the deeper layers of the skin, making them more effective; it can also dissolve stubborn ingredients that don't wash away with water.
This is why alcohol is often used in chemical peel treatments. 
Another reason: Oil control. Toners and gel-based moisturizers often use it to balance the skin and reduce excess oil production. 
Why is it so dangerous? Alcohol can break down the skin's barrier, speeding up the aging process and harming repair pathways along the way. On a lower level, it can be drying and strip the skin of its natural moisture. 
While alcohol can help regulate sebum, overusing it can cause dehydration, leading to increased oil production to compensate. Ultimately, it's easy to determine if your skin has been affected by alcohol.  Redness, flaking, dryness, sensitivity, tightness, or a burning sensation as some of the most common warning signs.
What's important is being able to distinguish between those "good" and "bad" varieties. Fatty alcohol, which may be derived from palm or coconut oil, are often added to thicken products and won't be harsh on the skin. In this case, using alcohol as a spot treatment is ideal, like when a blemish needs to be dried out. 
Drying iterations to avoid, she says, are ethanol, denatured alcohol, methanol, or isopropyl alcohol. Those with extremely dry, sensitive complexions or inflammatory skin conditions (like rosacea) should avoid these in particular
While alcohol may do more harm than good, YELLE Skincare brings on the good stuff without compromising your skin's health. Our products are ALCOHOL Free, and we've figured out a plant-based way to give you benefits from fatty alcohol without using any alcohol at all. Let's talk about moisture, and why that is so important in replacing alcohol-based ingredients. 
Our collection has some of the finest ingredients. Aloe Vera(Awakening Milk & Honey Cleanser and Toner), hyaluronic acid(Brightening Eye Cream), and peptides (Awakening Peptide Boosting Serum for Normal Skin) are a few of the ingredients we rely on to make our product appealing for skin of color. We didn't want to cut any corners, so we carefully researched the best ingredients for the skin and developed our product line based on those ingredients.  We believe in the power of plants and minerals and feel that they are full of nutrients, from the earth, and offer full spectrum nourishment for your cells and body.
Serums are a powerful tool to enhance your regimen. They deliver a more concentrated dose of ingredients to target specific problems such as wrinkles, hyperpigmentation, and lack-luster skin. Our serums are light weight with smaller molecules which means better product penetration and healthier skin for you. Our serums are also very versatile and can be layered with our Awakening Moisturizer. Everyone can benefit from a serum our Awakening Hydrating Serum with Vitamin C for example is a powerful antioxidant that heals and prevents photo damage to the skin it is suitable for all skin types but especially those with dry skin.
Taking care of your skin doesn't have to be complicated. With our plant-based products you can trust that we like to keep things simple. At YELLE we believe that the earth gives us everything we need to thrive and survive, so using gentle ingredients that are plant-based will always be our first and only option. Have you given our skin quiz a try? Click on our quiz, directly on our website to learn what products may work best for all of your skin concerns.