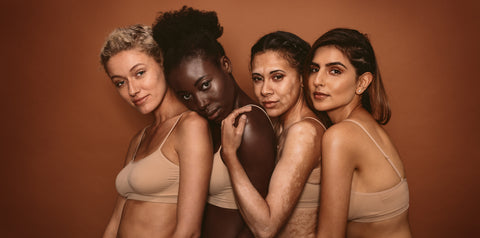 Who would have thought that choosing a skincare product could become a moral dilemma? But these days it has. Shaming and the use of fear to influence consumer choice has become common within some beauty communities. Navigating it all can be difficult but at YELLE our skincare team believes it does not have to be, our team believes we should be empowered in our skin care choices, we don't believe in shaming or fear mongering. We believe in making informed decisions when it comes to our skin. Here's what else we have to say.
Embrace Others
Our YELLE Skincare Team does not feel dermatologist and "medicine" are the enemy. We believe it is a good idea to consult with a dermatologist at least once a year for preventative care screenings and assessments. We encourage routine facials and do not feel ALL dermatologist are in cahoots with pharmaceutical companies to profit from your pain. Our team has worked with many reputable dermatologists that have a genuine commitment to the skin and treating it. We have consulted with chemists and skincare professionals as well when formulating our collection. These professionals play a pivotal role in skin care equation and we embrace their efforts.
Educate Yourself
Overcome product shaming by educating yourself about the products you are using, learning about ingredients, and most importantly getting to know what YOUR skin needs. Your skin will change as you age and as you experience life. Pregnancy, menopause, and environmental factors all impact the skin, your response to these changes may vary, and that is why it is important to get educated. You may find your skin needs a different level of care at its various stages. Individuals that start their skin journey with our YELLE Preventative Care System may need to transition to our Brightening System as they progress on their skin journey for example. We find it a lot easier to resist shaming when you are extra confident and educated about what your skin needs.
Find Your Space
When it comes to your skin it is important to develop a personal skincare philosophy that embodies your ideals and personal ethos. Know your truth, walk in it, and choose products that support those beliefs. Consider your lifestyle, and your skincare goals. Don't be afraid to change your mind or step outside your box when it comes to your skin. You might try introducing our ADREAM eye cream or one of our Awakening serums into your skincare routine as your skin changes.
You have a lot of freedom when it comes to your skin and at YELLE we want to grow with you and experience the journey together. We can't wait for you to try one of our skincare solutions today.
Written by Regina Tucker