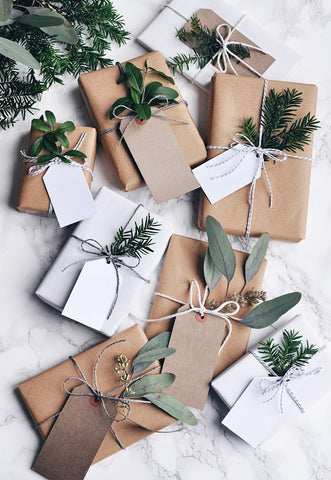 Got skincare on your holiday shopping list this season? Shopping skin care for another person can be frustrating and tricky but you definitely can get it right. Keep reading for our YELLE Skincare team tips on how to shop and give the gift of skincare this holiday season.
Consider Their Current Collection
Think about the individuals current skincare collection. Pay attention to what they have and what's missing from their existing regimen. Purchase products that are missing from their routine or shop and replenish products you already know they love.
Get Someone Started
For the individual on your list that has mentioned a time or two before that they are really interested in taking better care of their skin. A skin care starter kit would make the perfect gift for them. One of our favorite starter kits is the YELLE Essential Kit. The kit comes complete with a cleanser, toner, and daily moisturizer. It is a great gift for those just getting started on their skin care journey.
Give A Beauty Gadget
Want to enhance someone's beauty routine this holiday? Give a beauty device to amplify their routine and put a smile on their face. Choose from hand held facial toning devices, LED light, jade rollers, personal steamers, and a wide variety of other gadgets designed to enhance an individual's routine at home.  Most of the skin care gadgets that we have seen and mentioned here make the perfect companion to our YELLE Skincare routines.
Consider Your Favorites
Do you have a few skincare and beauty products that you absolutely LOVE and won't leave home without? We certainly can't live without YELLE A-Dream Brightening Eye Cream and Awakening Peptide Boosting Serum this time of year. Add a few of your favorite body, haircare and nail care products to the mix and create your own holiday gift box to share with others. So many brands have created their own beauty gift boxes wouldn't it be fun to create your own with all your favorite products from the different categories of beauty? If you decide to create your own holiday gift set, we suggest including a little personalized note in the box sharing why you selected each product and maybe adding an additional personalized snack or candle to make the gift even more personal.
Give Seasonal Staples
This time of year when the weather is getting colder most individuals need a good moisturizer (our favorite is the Awakening Daily Moisturizer), a good lip balm, and a body scrub to exfoliate dry skin. These products really come in handy and can be coupled with an indulgent spa gift card for the ultimate experience in seasonal pampering.
Want to give the gift of skincare this holiday season. Our Awakening Collection is a natural plant-based formula suitable for melanin rich skin of all types. Shop without worrying and purchase the perfect holiday gift from our collection.
Written by Regina Tucker 
Photo: https://www.prudentpennypincher.com/christmas-gift-wrapping/