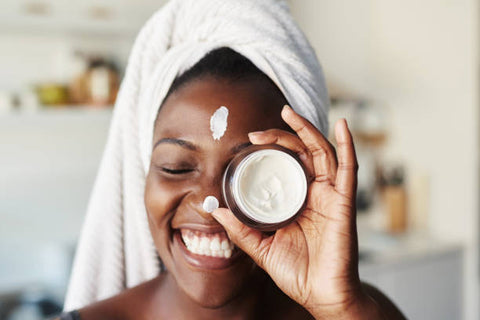 How do you prep your skin for Fall? With these 3 steps of course. If you're not careful, with the chilly weather comes chapped lips, dry and itchy skin, and a dull complexion. Thankfully, with some natural products, TLC, and these three steps, you can stay glowing all season long.
Exfoliate 2 - 3x per week
With the drier weather and inevitably drier skin, you have to stay on top of the buildup of dead skin. Too much dead skin cells is a pore-clogging catastrophe! Exfoliation will take care of that for sure. That said, you don't want to exfoliate too much. Too much exfoliation and your skin will be as dry as a piece of toast!
Hydrate, Hydrate, Hydrate!
No matter the time of year, hydration is key. If you don't know the rule by now, they say to determine the amount of water you should be drinking in a day, you take your body weight in pounds, and divide it in half. That number in ounces is the amount you should be drinking! Better hydration is the key to glowing skin all year round!
When the air gets extra dry, especially in late fall-early winter, we definitely recommend having a humidifier at home. It's a game changer when it comes to staying healthy and hydrated!
Add a serum to your skincare routine.
Trust me, you need as much moisture as possible around this time of year. Adding Yelle's Awakening Serum will indeed add on the much needed moisture that your skin will lack as the temperatures drop. 
There you have it, sis! The top three things you should do to prep your skin for fall. Did you learn something new today? Or maybe you have some tips and tricks of your own? Are you still questioning where to start with your skin care journey? Then you need to head over to our sight to take our Skin Quiz, now!