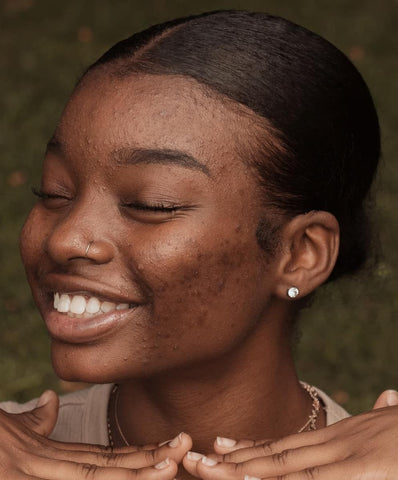 If you've come into your teen's room lately and found them obsessing over their skin in front of the mirror, you may be tempted to look at the situation as just one more drama-filled teen moment. However, teens may actually be tempted to hide serious skin health issues out of embarrassment, so it's important that as a parent you keep an eye on changes in teens' skin health. Let's dive into the most common teen skin conditions, and some treatment options.
By far the most common teens skin condition, Acne is a highly treatable skin condition that can be managed well in partnership with your dermatologist. Acne occurs when the pores in the skin become clogged. During the pubescent years, larger amounts of sebum, the oil that keeps skin moisturized, is produced. This production causes pores to clog, trapping numerous dead skin cells that stick together within the pores. This creates pimples. Anyone can develop pimples, especially during the teen years when the high production of sebum oil is common. The result is redness, swelling, and inflammation that goes deep into the skin, causing acne cysts and nodules.
Creating a consistent skincare routine will do the trick in stabilizing your teen's overly stressed skin. The key to the results you want is persistence and quality products. That's why our teen line, Fresh Start is a simple complete system that will make your teen's routine down to a t. 
After Acne, the second most common skin condition is Eczema. 
Eczema is actually extremely common, especially in melanin-rich skin. It simply means rashes, itching, swelling, and irritation of the skin. It may also be referred to as dermatitis. It most commonly occurs on the face, inside the elbows and knees, and on the hands or feet. Even though the condition is usually very itchy, scratching can spread the condition and lead to more inflammation, so it should be avoided as much as possible. There's no one cause of eczema and it may be influenced by both genetics and environment. Teens with eczema and atopic dermatitis can experience shame, thinking that they may spread their skin condition to others, so it's important for them to understand their condition is not contagious. Eczema is actually most common in infants and children, and it can often improve with age and even go away. Teens and adults of all ages may also struggle with eczema, and they are at greater risk if they experienced the condition as children.
Because eczema is worsened by irritation, using simple ingredient products like Fresh Start collection is best. YELLE's plant-based skincare system is will sooth even the most sensitive skin with it's quality ingredient list. 
Created with aloe, and vitamin E, Fresh Start collection has exactly what's needed to calm the skin and nourish it back to a healthy state. 
The third most common skin condition is SunBurn. 
We know, most people think people of color don't experience sunburn … but we do and it's pretty painful to endure.
Sunburn is a burn that occurs due to overexposure to sunlight. Any patient can experience a sunburn, but teens may be at higher risk if they participate in outdoor athletic events and fail to apply sunscreen. Daily application of sunblock can help reduce the risk for and severity of sunburn in people of all ages. Since sunburn is one of the leading causes of many skin conditions, including cancers, protecting skin from sun damage at all ages is important.
Teens often feel embarrassed, and they won't say anything about their skin problems. Make sure you're paying attention and encourage teens to get help with these conditions when they need it.