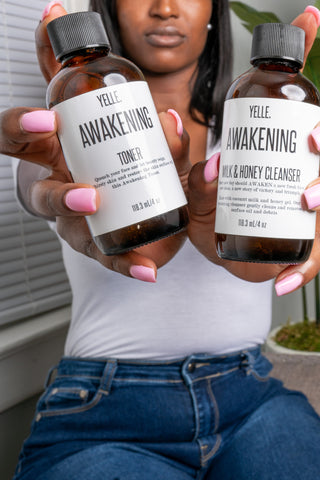 Increased heat during the summer months can aggravate the skin and leave it feeling warm, sweaty, and uncomfortable. Acne breakouts are more prevalent, and general discomfort with the skin is more typical during the warmer months. All skin types crave hydration to beat the heat of summer and a bit of refreshment is always welcomed. Sunhats, SPF, and the YELLE Beauty Awakening Toner are your best
friend this time of year. YELLE Beauty's Awakening Toner has many multi uses, read on to discover the many multi-tasking benefits the toner offers:
As a Toner
Toner is extremely nourishing and perfect for all skin types. From restoring the skins pH balance to moisturizing and providing additional cleansing benefits the YELLE team stands firm in its belief that the benefits of using a toner far outweigh not using one at all. We recommend using toner every day to feed your thirsty skin and restore its surface. Our gel toner refreshes and restores the skin after cleansing with calming aloe, rose hip oil and hyaluronic acid. This combination helps alleviate stressed skin and restores its tone and elasticity.
As a Mask
Refresh and soothe your skin by allowing our toner to also dub as your at-home mask. Refrigerate our toner 24-48 hours before usage and then right after cleansing apply it to the skin, leave on for 3-5 minutes and then wipe away the excess. The extra dose of powerful and soothing hydration delivered into your skin will feel amazing! The aloe in our toner is a wonderful anti-inflammatory agent that is
excellent for wound healing, and collagen synthesis. The rosemary is also a potent antioxidant that is anti-inflammatory and antibacterial, making this a really good treatment for sunburned or over heated skin. 
As a Summer Eye Treatment
The skin around your eyes is very sensitive to sunlight. Sunglasses that have the proper amount of UVA and UVB protection and that limit your eyes exposure to the harmful rays of the sun are a MUST! Refresh your eyes with a soothing summer eye treatment complete with our toner and ADREAM Brightening Eye Cream. Here are the steps: Use a q-tip or cotton ball and apply toner to the eye lids to remove eye make-up. Next, pat a little toner underneath the eyes to reduce puffiness and to hydrate the delicate under eye area. Use the small end of your jade roller to stimulate blood flow, and place it in the inner corner of the eye and roll out toward the temples, do this for 5-8 passes on each eye. Lastly, apply ADREAM Brightening Eye Cream to smooth, brighten and improve elasticity.
Do you need a toner? Are you looking for a complete skincare routine? The YELLE Beauty collection is the perfect skin care routine that addresses EVERYTHING your skin needs on a daily basis. Created by experts for your skins benefit. Start your journey today!