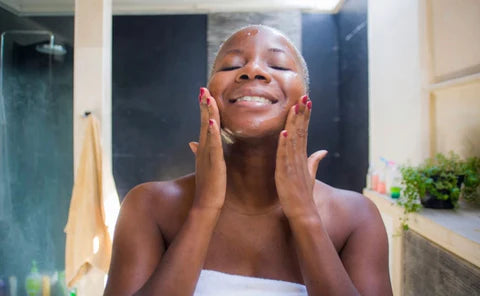 As of June 21, Summer is OFFICIALLY Here. There's more hours of sunshine, and more opportunity for our melanin to shine for the world to see. 
While we welcome the warmth and sunshine, we have a love/hate relationship with the heat and humidity. Are you with us? When it comes to your skin, it's important to adjust your skincare regimen to the temperature and humidity change in order to keep it hydrated, glowing
Vitamin C
Vitamin C is a powerful antioxidant that both inhibits the enzyme that produces melanin in the skin and stimulates collagen to reduce fine lines and wrinkles. Vitamin C should be in your regimen all year, but it's especially important during the summer months as it helps to brighten and lighten the skin.
Oats
It's in everything, and with good reason: colloidal oatmeal (which are oats ground very finely, and should not be eaten) is amazing at treating itchy skin caused by skin conditions like psoriasis and eczema, seasonal issues like summer dryness and bug bites, and minor concerns like flaky skin.
Witch Hazel
Raise your hand if your grandmother ever told you to use witch hazel after your shower to ensure healthy, gorgeous skin. Well, it turns out she was onto something: witch hazel balances oil production, reduces redness and gets rid of swelling, all at the same time. It's nature's perfect natural toner, as it's tough enough to remove makeup and grime without stripping skin of the oil it needs to function. Our version of Witch Hazel is our Yelle Awakening Toner. 
Remember you should be extremely consistent when it comes to your Summer Skincare Regimen. Using our Awakening Complete Kit will ensure your skin is nourished and protected from even the hottest summer days. 
Be sure to layer your skincare with sunscreen before heading out the door. You want to make sure you apply sunscreen at least 30 min before sun exposure for the best protection. 
Keep things hot, but stay cool fam!