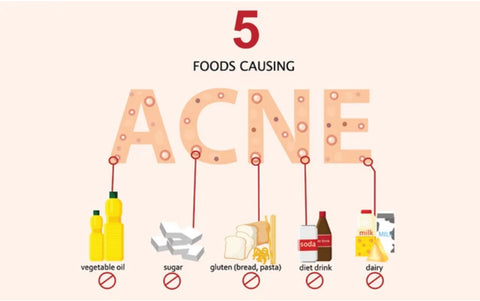 Tis' the season to EAT honey! We love this time of year because we can all live in leggings, and oversized sweaters and not be so strict on our eating habits. Meal time is becoming more about comfort as the winter months roll around and we are ready for all the spiced lattes and baked pastries. But let's not forget, the foods we eat not only affect our waistline, it also leaves an impact on our skin. So let's break down exactly what foods are linked to breakouts and skin damage.
Refined Grains and Sugars
People with acne tend to consume more refined carbohydrates than people with little or no acne. If you're experiencing breakouts consider scaling back on breads, pasta, white rice, sodas, and sweeteners such as sugar, syrup and even honey.
Dairy
Studies show that young adults who regularly consumed milk or ice cream were four times more likely to suffer from acne. Milk is known to increase insulin levels, independent of its effects on blood sugar, which may worsen acne severity. So if you already have some sensitivity to milk, you may want to hold off from incorporating it into your diet for the sake of your skin. 
Fast Food
Fast food items, such as burgers, nuggets, hot dogs, french fries, sodas and milkshakes, are mainstays an improper diet that may increase acne risk. While it is unclear the linking agents to fast food and acne, one may assume that the not-so-fresh ingredients in fast food play a huge part in chemical imbalance that results in skin breakouts.
Allergen-Prone Foods
Food sensitivity is one of the most common causes of facial breakouts. Food sensitivities occur when your immune system mistakenly identifies food as a threat and launches an immune attack against it, causing inflammation all over your body which in terms can appear on your face. If you are unaware of what's causing a bad breakout, consider dissecting your diet and testing yourself for allergies. We guarantee the root of the problem is most likely something you've consumed. 
Alcohol
A drink to celebrate a special occasion or a glass of wine with dinner is always a treat, however, consuming alcohol in large quantities can alter your hormone levels. Although alcohol has not been proven to impact our acne directly, when we drink, it usually creates an imbalance in estrogen or testosterone levels, which are a major factor in the frequency and severity of breakouts. When hormone levels are increased, our skin produces a substance called sebum which clogs our pores with oil and bacteria, eventually causing painful breakouts. Binge drinking can also wreak havoc on our immune systems which usually help fight off any bacteria causing acne as well as other common viruses. Of course, you should always drink in moderation, but for those who are more prone to breakouts than others, keep drinking to a minimum for health and skin reasons.
Now that you know what's potentially causing a major breakout in your life, build a lifestyle that avoids these common issues. The more intentional you are with your lifestyle the healthier and happier you will be.