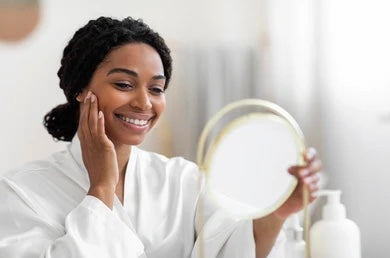 Sure there are tons of random celebratory holidays out there, but this one speaks to us on a different level. Why? Because your smile is connected to every first encounter there is, so it is very important! Every year, this happy holiday is dedicated to performing acts of kindness and sharing a smile with those that need it most.
This year, we're celebrating World Smile Day with dual lip and skin care tips that support the  products that highlight those pearly whites and help you spread some cheer. Each product features smile-inducing ingredients that are sure to brighten up anyone's day. Give them to those who need a little pick-me-up, or get them for yourself so you can keep the good feelings going after World Smile Day ends. 
Your Smile Must Be Supported with Elasticity
While your smile might be your greatest asset, just remember that it is fully supported by the skin of your jawline and cheeks. In order to have a healthy smile, the area around your lips must be healthy, bright and fully supported. The cheek and jawline area typically can hold hormonal acne, that's why you may experience pimples around 'that time of the month.'
To ensure your smile is fully supported, be sure to tone the area of your jaw and cheek line regularly, nightly, with our YELLE Awakening Toner, and implement a balanced routine to keep the excess oil build up at bay which in terms will help combat breakouts around your smile line. 
Lock In The Moisture
Adding moisture to your routine will only keep the area around your smile line healthy and hydrated. Who wants ashy lips? No one! While you're throwing on your lip balm, make sure to also moisturize your skin too. Our YELLE Awakening Serum  is powerfully packed with rich antioxidants like jojoba, Vitamin C and chamomile to not only treat your skin but to maintain a healthy glow. You can't miss when it comes to maintaining a healthy smile. Just choose your skin type and implement the serum into your routine nightly. If you're unsure of what serum to use, take our skincare quiz on the homepage of our website. 
Evenness To Support Your Favorite Lippie
The skin around your lips is truly the canvas for your masterpiece. You want to make sure that your skin is in top shape before adding a fun lippie. 
How does one make this happen? It's all about even skin tone