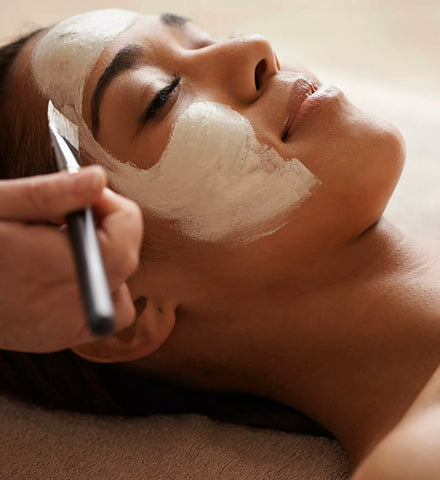 We agree, "soft life" is the best life and we are all about making adjustments to implement it into our lifestyle.
What does it mean?
Soft life is a life of ease without requiring hard work, sacrifice, and unpleasantness. It is important to understand that this social movement is less about wealth and more about fair access to a standardized good quality of living. 
Since we're welcoming such comfort, let's talk about what all that entails. It may be treating yourself a little more, or implementing more self-care. Whatever it is, we're sure it will include a facial or two. 
So if you're going to get your face pampered for the first time? Before you head into the treatment room for your first facial be sure to take a look at these tips to help you prepare for your experience, minimize surprise and get the most out of your treatment.
Choose the Right Environment
Do you want a pampering kind of session or a let's get down to business kind of treatment? Before you head into the treatment room decide what kind of experience you want to have. If a day of rest and relaxation is what you need, you will probably appreciate the solace of a spa and wellness facility with additional amenities such as a pool, sauna, and fitness room to help you relax and rejuvenate. The emphasis in wellness facilities is relaxation, so prepare to be pampered in a quiet and serene environment. On the other hand if you wish to address a serious skin concern, can pass on the massage, and really want answers regarding your skin a medical spa or specialty studio might be just right for you. With these places you can expect more advanced treatments, support from a medical team, specialty care and advanced product lines to treat your skin.
Prepare to get CUSTOMIZED
When you arrive for your facial, be prepared to discuss your skincare concerns and goals. Also, be sure to leave a little room in your budget for additional customizations as recommended by your skincare professional. Most facilities offer additional facial enhancements to customize your facial treatment and maximize your benefits. Specialty masks, chemical peels, LED light, and micro-needling are a few of the options that may be available so keep them on your radar when heading in for your treatment.
Redness, Post Facial Breakout & More
Depending on the type of treatment performed you may experience redness, post facial break out, peeling, and more. Your skincare professional will discuss any potential side effects and discuss how to address them if they arise. The biggest thing is not to panic should you experience a "normal" side effect after a facial. Pay attention and immediately report anything that was not discussed and is out of the ordinary for your skin. It is also important to remember that not having any adverse post facial symptoms such as peeling, or redness is not an indication that the facial was not effective or that something went wrong during your treatment either.
Homecare
Throughout your facial your skincare professional will be taking notes and making observations regarding your skin, at the end of your treatment they will discuss your homecare regimen and the products you should use to keep up the results of your facial. Our YELLE Skincare collection is partnering with spas and treatment facilities to offer the best in homecare solutions. From our essential to brightening systems we have homecare solutions to meet your skin care needs. Discuss which system is right for you and bring it home after your treatment to maintain your results.
Follow Up
Based on your skincare professionals recommendations you may have to return for a follow up visit anywhere from a week to a few days from the time of your initial treatment. Try to stick to your skincare professionals recommendations and don't be afraid to check back in with questions after your visit.
Facials are the first step for your skin to look its best, the second step is homecare. After your facial make sure that you stay on top of your results with a homecare regimen that maintains the results of your facial. Use our YELLE skincare regimen, the Awakening Collection, as a complete skin care solution between facials.