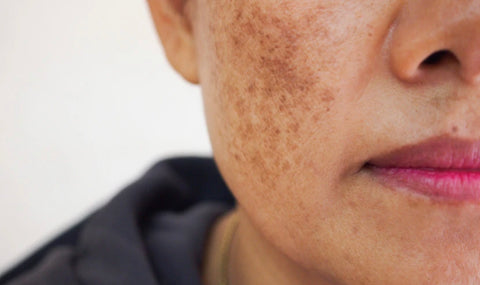 Pinpointing what causes a breakout can be tough, but with what we like to call skin-clues, we've found a way to detect what exactly is happening to our facial areas. Every single phase our bodies go through is with intention, the case is also the same for your face. So what really causes a breakout? And what does it mean? Thanks to facial-mapping we can detect exactly what the problem is with your skin and where the culprit is coming from.
Experiencing A Breakout in The Same Spot?
There are a few possible reasons you'd get pimples in the same place over and over again. Acne can come back in the same spot from certain behaviors, like touching your face with dirty hands, sleeping in makeup, etc. Often, a pimple recurs in the exact same spot because there is still inflammation deeper in the skin, which makes the spot vulnerable to the usual acne influencers. Using a full skincare system like YELLE's Complete System, can help with you creating a routine for your skin that works and will continuously fight against repetitive breakouts. 
Acne on Your Mouth, Jawline, Neck or Chin?
Pimples popping up on your lower cheek, jawline, and chin is known as a "hormonal pattern." Acne in these areas is often caused by your skin's oil glands overreacting to hormonal responses, which can be triggered by factors such as stress, eating too much sugar or dairy, or the (perfectly normal) fluctuations that happen during women's menstrual cycles. To avoid this, be mindful of your diet and increase your water intake.
Blackheads on Your Nose?
Blackheads are small clogged pores (aka open comedones) that turn black because the trapped oil and skin cells are exposed to the air. People tend to get blackheads on their nose because the skin on and around your nose (aka the T-zone) has a high concentration of oil glands. To clear this up use products that are specifically targeted towards oily skin, like YELLE's Brightening 4 Piece Treatment System.
Acne on Your Cheeks?
Our cheeks are one of the more common places to break out, and this can happen for a variety of reasons: touching your cheeks, holding your phone against your cheek when you're talking on the phone, friction or bacteria from the pillow you sleep on, sleeping on your hand, or wearing makeup on your cheeks, to name a few.
Forehead Pimples?
Forehead pimples generally appear from clogged pores. You'd be surprised by how much hair product actually spreads to your forehead. Make sure you're using hair products that don't have pore clogging ingredients to keep your skin in tip-top shape. If you want to guarantee that your skin's pores remain open then use YELLE's Milk and Honey Toner after washing your face in the morning and at night. This will open pores and restore your damaged skin cells.
If you're still clueless to why you're having so many breakouts and what products are good for you, be sure to take our SKIN QUIZ on www.yelleskincare.comto learn step-by-step what your custom skin routine should be.