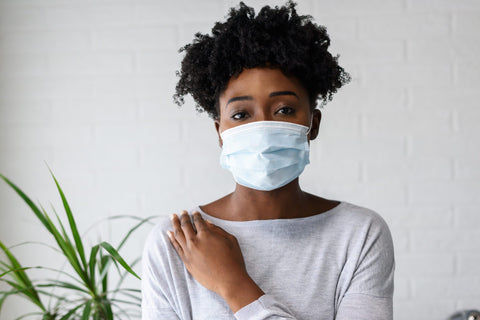 Depending on where you are in the world, for several months now we have been finding ourselves adjusting to our new normal. Most states have enforced a mask-only policy with hopes that it will flatten the curve on confirmed COVID-19 cases.
As the pandemic continues to unfold. We are unsure of what tomorrow may bring, so we must do the best we can under the circumstances we are in. 
If you aren't wearing a mask, we encourage you to do so because it not only shields your germs from other people, you could very much save someone's life. If you are wearing a mask, kudos to you! 
If that mask is irritating your skin, understand that this is very common since our skin tends to be sensitive to new materials we aren't accustomed to. Until your skin can adjust to the new normal here are some measures you can take to protect your skin under your mask:
You want to avoid wearing heavy makeup under your mask. 
As simple as it sounds, there's just no real reason to have a fully beat face right now if you are practicing social distancing. If you are wearing your mask properly then you won't ever see beyond your eyes and chin, since your nose, cheese, and mouth are fully covered. Consider not wearing makeup in those areas, and if you choose to wear makeup, limit the amount of makeup you apply in those areas.
Your skin is most likely irritated from makeup housing dirt and germs in your pores. Covering your face while wearing makeup is similar to steaming your face with makeup on (it gets hot under those masks) … and it's just no good for the skin!
Make sure you are wearing moisturizer to retain moisture.
It's true, it gets extremely hot and dry under the mask and it could be causing your skin to dry out. If you are experiencing dry areas and breakouts, especially where the lining of your mask is, try using more moisturizer in those areas so that your face remains nourished. Our skin can be extremely sensitive in these areas, so we want to ensure that we are doing our part to cancel out any additional breakouts.
Yelle's Awakening Daily Moisturizer is perfect for adding moisture back to your skin. It's infusion of honey and coconut milk is the perfect pair of natural ingredients to moisturize your skin, even in the middle of a pandemic. 
Try to limit exposure - stay inside as much as possible.
We should all be practicing this, but it seems like so many people have cabin fever. We get it, sometimes you just need to get out of the house, but if you're truly having a bad breakout, the last thing you should want to do is irritate your skin by wearing a mask. So try your best to limit the amount of time you leave your home. Avoid leaving for non-essential trips … that means food, work, health-related visits. Anything outside of that most likely doesn't need to happen. 
Instead, choose to stay home and practice some self-care. Like throw on your cute pajamas, and indulge in your Yelle Skincare Treatment System. It has all of the proper skin care products your skin needs to get back to a healthy state.
Follow these steps and your skin will bounce back in no time: 
Cleanse. Tone. Add Serum and Eye Cream. Then Moisturize!
Wash your mask or constantly get a new one.
Have you been wearing the same mask since the start of the pandemic in March? Well, THAT is your problem! If you have been rockin' the same mask for over 20 weeks, then we completely understand why you're breaking out. Your mask is most likely infested with horrible germs.
If you are wearing a cloth mask with a filter, remove/change out the filter and throw your face mask in the washer and dryer often. You should always change your filter to ensure you are actually wearing a mask that works.
If you are wearing a mask made from paper products, you cannot clean those so you should dispose of it every few days or the minute you notice it is damaged or soiled.
Make sure you are wearing the right size mask.
Wearing a mask that is too tight could be causing your break out. To find the right fit for your mask, we encourage you to measure from the bridge of your nose to under your chin. Then choose a mask that is sized as closest to your face measurements.
Unfortunately this is our new normal. No one enjoys wearing a mask, but it is the only way to slow down how fast this virus progresses. Healthy skin matters, even if no one can see it under your mask. Follow these 5 steps and you can limit how much your face mask breaks out.
Be safe, stay distant, and enjoy healthy skin!